Bush, Louise (2012) Medieval Occupation at Challis Green, Barrington, Cambridgeshire. [Client Report] (Submitted)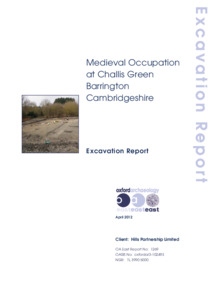 Preview
PDF




Report1269_LR.pdf


Available under License Creative Commons Attribution Share Alike.
Download (4MB) | Preview
Abstract
Between the 1st and 18th of March 2011, Oxford Archaeology East carried out an archaeological excavation at Challis Green, Barrington (TL 3990 5000), followed by Monitoring and Recording on two areas during ground works between the 20th of April and 10th of May 2011 and between 10th and 12th January 2012. The archaeological works were carried out prior to the construction of 39 affordable homes with associated garages, landscaping access and services.
The development area is 2.5 ha in total, however the evaluation (undertaken in 1996) showed that only the north-west corner of the development contained remains of archaeological significance, an area c.0.2ha, of which approximately half is to be laid to grass and be subject to no further impact from the development. Thus only the remaining other half was open to excavation. The remainder of the development area was subject to Monitoring and Recording during ground works.
The excavation revealed archaeological features dating to the early medieval period. A series of large boundary and enclosure ditches containing domestic refuse were uncovered, along with several pit groups and the remnants of two clunch walls. The eastern extent of the site was taken over by post-medieval coprolite quarrying.
Finds from the site revealed a domestic use, with pottery dating from 1150-1350 along with animal bone remains and mussel shell. Residual Late Saxon pottery was also recovered from several features and is evidence for there being earlier activity in the vicinity.
Two episodes of Archaeological Monitoring and Recording during ground works revealed a continuation of the large boundary and enclosure ditches and later walls, to the immediate north-west and north-east of the excavation area, along with a group of post holes and pits to the north-west of the main excavation area and sporadic isolated features across the remainder of the development area.
Actions (login required)