Atkins, Robert (2010) Bronze Age Beaker pits and a Late Iron Age into Roman Settlement on land off Stirling Way Nr. Witchford, Ely, Cambridgeshire. [Client Report] (Submitted)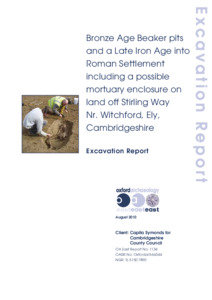 Preview
PDF




Report 1134_LR.pdf


Available under License Creative Commons Attribution Share Alike.
Download (2MB) | Preview
Abstract
Between the 30th September and 19th October 2009 OA East conducted the first phase of an archaeological excavation on land off Stirling Way, near Witchford, Ely in advance of a proposed recycling centre. This work follows on from an archaeological evaluation of the site in 2008 (Atkins 2009).
The excavation found some pre-Iron Age prehistoric activity. An Early Neolithic to Bronze Age flint scatter consisted of 33 worked flint pieces found across the site but the majority came from the plateau of a small knoll at c.15.5mOD. Two Beaker pits were excavated very close to the top of the slope. These were the first non funerary Beaker features uncovered within a 5km radius of the site. The accumulative evidence probably indicates 'stay over' and/or sporadic visits to the site in this earlier prehistoric period.
In the Late Iron Age a settlement was established but only a very small part of it was within the excavation (and the earlier evaluation area). This work found four phases of occupation which started c.1st century BC and continued into the late 2nd century AD. It is likely that the overall settlement started in the Early or Middle Iron Age as a few pottery sherds of this period was found as residual items in later features. Likewise, the settlement may have continued into the Late Roman period adjacent to the site, as a Late Roman layer as well as artefacts dated to this period, including a 4th century coin, were found in the topsoil. The Iron Age occupation consisted of two Later Iron Age pits which were cut by a large LIA boundary ditch and its internal bank which seems to have demarcated the settlement extent to the north. This ditch meandered along the top contour of a ridge which ran roughly parallel and overlooked a strategic causeway (stream) route which flowed from Grunty Fen into West Fen. Internal features within the site were outside the excavation area although another ditch and domestic pits were found in the 2008 evaluation.
External to this settlement, beyond the boundary ditch to the north there were very few features. The only datable features comprised a contemporary possible mortuary related enclosure which seems to have started in the very Late Iron Age and continued to around the late 2nd century AD. Three interesting burials with grave goods, a probable LPRIA cremation and two second century inhumations, lay within the western side of this small enclosure respecting either the large boundary ditch or the enclosure ditches.
Actions (login required)