Atkins, Robert (2011) Multi-period Settlement and Funerary Evidence at Tithe Barn Farm, Chatteris. [Client Report] (Submitted)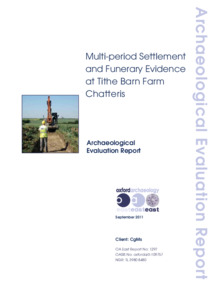 Preview
PDF




CHATBF11_REPORT1297_LR.pdf


Available under License Creative Commons Attribution Share Alike.
Download (8MB) | Preview
Abstract
In a four week period during July and August 2011, OA East conducted an archaeological evaluation comprising sixty trenches and ten test pits at Tithe Barn Farm, Chatteris in advance of proposed residential development. Trenches were targeted over features identified by a previous geophysical survey (Walford 2008). There was a main north to south palaeochannel dating from the Holocene period with evidence for a second palaeochannel branching from it.
A small assemblage of Mesolithic/Early Neolithic flint tools were found although only one tool (a blade) was found in a possibly contemporary post hole. More definite settlement evidence (a hollow and a well containing burnt flint possibly derived from a "burnt mound") is dated to the Early Bronze Age.
Clear and extensive evidence for a Middle Bronze Age settlement and associated field system was found in Field 1 adjacent and to the west of the main palaeochannel. Features associated with this settlement included post hole structures and a scatter of pits and ditches. Evidence for possible ritual/funerary and/or settlement of Middle Bronze Age date was also found in Field 2 . Here, two possible ring ditches may be the remains of barrows or possibly round houses. Other ditches are presumably field systems associated with the settlement. Further evidence of this period includes large watering holes in three locations cutting cutting into relict palaeochannels. The evaluation has produced a significant assemblage of Middle Bronze Age artefacts comprising 272 pottery sherds (2.6kg) with a major component of this being Deverel Rimbury type ware, a moderate collection of animal bone, flint pieces including cores and a piece of slag. Waterlogged deposits containing preserved insects and wood fragments were found in deeper features.
There was no evidence for Late Bronze Age activity ad the site was presumably abandoned until the Middle/Late Iron Age when a new settlement was founded that continued into the Late Roman period. Evidence for possible round houses and other buildings was found as well as a single cremation and features associated with settlement such as pits and enclosure ditches. Evidence for copper and iron smithing in the Middle/Late Iron Age is of particular interest. A second farmstead was established at the eastern area of the site in the Latest Iron Age/Early Roman period and this also continued into the the Late Roman period.
Of note is the presence of an apparently isolated ?Saxon building (SFB).
In the medieval period the site was largely under cultivation although a map of 1819 hints that a former road (Hill Road) may have crossed the site to a small hamlet partly at the north-eastern edge of the site. No evidence was found for settlement associated with the 16th century Tithe barn.
Actions (login required)