Fletcher, Taleyna (2011) Barns Associated with the former Crosse Hall, Dowgate Road, Leverington, Cambridgeshire. [Client Report] (Submitted)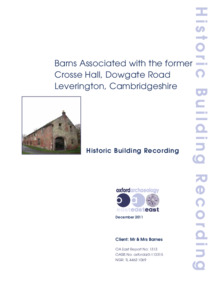 Preview
PDF




LEVBWB11_report 1313_LoRes.pdf


Available under License Creative Commons Attribution Share Alike.
Download (7MB) | Preview
Abstract
On 7th November 2011, Oxford Archaeology East conducted an historical building survey at a range of storage barns associated with Beechwood House (formerly Crosse Hall), Dowgate Road in Leverington, Cambridgeshire. The work was carried out in advance of alterations to convert the site into a residential dwelling.
This work was carried out in response to a Brief issued by Cambridgeshire County Councils Historic Environment Team. The Brief required that a survey (equivalent to an English Heritage Level 2 Survey) was carried out on the existing buildings prior to major alterations to the original fabric.
The range comprises several phases, all constructed in hand-made bricks. Due to the absence or survival of any architectural features, original roof coverings, fixtures or fittings, dating and function of the various elements are difficult to establish. Historical maps have been used to establish the presence of the building as early as the 18th century and the buildings are shown in their current layout by the late 19th century 1st Edition Ordnance Survey Map.
Until recently, the surveyed buildings, referred to as barns, were associated with Beechwood House, previously known as Crosse Hall which has its origins in the 16th century. There are still elements of the early building in Beechwood House with which the earliest phases of the surveyed buildings may be contemporary.
Several phases of extension and alteration were identified during the survey beginning with the construction of a single storey rectangular building, perhaps a stable, possibly in the 17th century to which a second floor was added at a later date. A second rectangular shaped building was added onto the southern end with two large opposing double doors. An additional wing was added onto the western side, possibly during the 18th century followed by another two storey addition built onto the road-frontage with two arches and first floor accommodation above. The addition of windows throughout the building in the 19th century may indicate alteration to accommodate living areas or to facilitate the storage and sorting of seeds as census data reveals the owners of Beechwood house were seed merchants in the mid-late 19th century.
Actions (login required)