Thatcher, Chris (2011) Iron Age and Roman remains at Cambourne Secondary School, Cambourne,. [Client Report] (Submitted)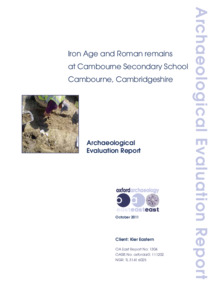 Preview
PDF




CBNCSS11_report1304_final_LR.pdf


Available under License Creative Commons Attribution Share Alike.
Download (1MB) | Preview
Abstract
During August and September 2011 Oxford Archaeology East (OAE) conducted an archaeological evaluation at the site of a proposed new school (buildings and playing fields) immediately to the west of Cambourne (centred on TL 3141 6025).
An aerial photographic survey (Palmer, 2011) and geophysical survey (Enright, 2011) were commissioned prior to the commencement of the works in order to identify and accurately map archaeological, recent and natural features within and around the development site. These identified few archaeological features lying within the development area but two areas of possible Iron Age/ Romano-British activity lying beyond it to the south.
The archaeological evaluation revealed that there was activity on the site from probably the Late Pre-Roman Iron Age to the end of the 2nd century AD. This was comparable with the excavations to the east at Lower Cambourne, which noted a sharp decline in activity during the latter part of the 2nd century (Wright et al 2009).
Several areas of increased archaeological activity were noted in the southern, eastern and north-western parts of the development site. These mainly comprised ditches that were characteristic of later prehistoric and Roman settlement boundaries and field systems. The finds assemblages, whilst small, suggested that the site lay in close proximity to a settlement probably dating to the 1st and 2nd centuries AD.
A number of features were of note and these included a possible ring gully identified in the southern part of the development area close to the crop marks identified by the aerial photographic survey. This suggests earlier, prehistoric occupation extending into the site. In the north-western part of the development area an east to west aligned ditch, was identified by the geophysical survey. This had large quantities of stone in its base and may have represented a possible palisade trench. A poorly preserved inhumation, next to a relatively large boundary ditch in this part of the site, may be interpreted as indicators that the development area lay close to a settlement boundary. Further to the east, the frequency of ditches increased and this too may suggest that the settlement activity recorded to the east at Lower Cambourne extended into the development area. A feature identified in the northern part of the site by both the aerial photographic survey and the geophysical survey was excavated and this was interpreted as a possible track way.
Actions (login required)