Payne, John (2006) Land at Innsworth, Gloucestershire. Project Report. Oxford Archaeological Unit Ltd. (Unpublished)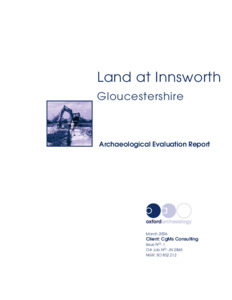 Preview
PDF




TEWINN05.pdf


Download (10MB) | Preview
Abstract
From October 2005 to January 2006, Oxford Archaeology (OA)
undertook an archaeological evaluation at land to the north of Gloucester
and immediately north-west of the village of Innsworth in Gloucestershire
(NGR SO 852 212). OA carried out the evaluation on behalf of CgMs
Consulting.
The site is approximately 120 hectares (300 acres) in extent and is
currently under consideration for mixed-use development. This first phase
of evaluation work comprised a proposed number of 217 evaluation
trenches with a further 37 being added later. In the event, access problems
prevented some of the trenches being opened. A total of 188 trenches were
excavated at this stage of the investigation.
As well as providing good overall coverage of the site area the evaluation
trenches were also targeted at anomalies previously identified by
geophysical survey. Three principal areas of archaeological activity were
identified by trenching, thus confirming the interpretations of this survey.
A double-ditched enclosure of late Iron Age/early Roman date was located
to the north of the evaluated area. Within the enclosure were shallow
linear features and small pits/postholes, possibly evidence of structures.
Within the central area of the evaluation were a large number of ditches,
some inter-cutting, and forming square and rectangular enclosures. The
layout suggests a probable farmstead with large quantities of ceramic
evidence dating to the late Iron Age/early Roman period. Some features
contained Roman material from the 2nd-4th centuries, suggesting the site
was in use for some time. Leading away north-west from this area was a
contemporary parallel ditch arrangement, very possibly a trackway/droveway.
In the south-east corner of the evaluated area numerous inter-cutting
ditches and discrete features including pits/postholes indicative of
settlement were recorded. Linear and curvilinear features were identified
and the ceramic evidence suggests a fairly long-lived area of activity.
However, it seems likely that the main focus of this possible settlement
activity lies beyond the east boundary of the evaluated area.
Away from these concentrations were ditches typical of field systems from
the late prehistoric and Roman periods. Most features were undated,
however. Medieval plough furrows were revealed in areas across the site,
together with a few post-medieval and modern features.
Actions (login required)