Brossler, Adam and Early, Robert and Allen, Carol and Barclay, Alistair and Blinkhorn, Paul and Boyle, Angela and Bradley, Philippa and Campbell, Gill and Gale, Rowena and Morris, Elaine and Robinson, Mark and Roe, Fiona and Scaife, Robert and Taylor, Maisie and Williams, David and Wilson, Bob Reading Green Park Phase 2 excavations 1995 Neolithic and Bronze Age sites. Project Report. Oxford Archaeology.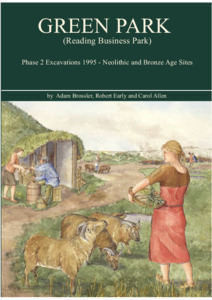 Preview
PDF




RBPK95.pdfA.pdf


Download (8MB) | Preview
Abstract
In 1995 a second phase of excavations was undertaken
by Oxford Archaeological Unit (OAU) at
Reading Business Park in advance of development.
Two areas, 3017 and 3000B, were investigated
covering about 2.2 ha. Evidence of occupation in the
Neolithic, Bronze Age and medieval periods was
found.
In Area 3017 Neolithic features were uncovered,
including an unusual segmented ring ditch, and a
number of pits and postholes. The ring ditch was
radiocarbon dated to the middle to late Neolithic,
and an interesting flint assemblage from all features
on the site was dated mainly to the later Neolithic.
Numerous tree-throw holes also contained later
Neolithic flint. Only two pits contained Neolithic
pottery, one with Peterborough Ware and one with a
Grooved Ware rim.
In the earlier phase of Area 3000B Deverel
Rimbury pottery was deposited in pits, in one case
with two cremations. Dating of associated charcoal
gave a middle to late Bronze Age date, identical to
the date from another pit containing late Bronze
Age pottery. A field system, composed of rectangular
boundary ditches, was laid out in the area prior
to the establishment of a late Bronze Age settlement.
The late Bronze Age occupation area included five
roundhouses, and a number of post-built structures.
Waterholes, pits and postholes were also found,
many of which contained late Bronze Age pottery.
Some medieval activity was also present in this
area.
The pottery assemblage of Area 3000B is unusual
as it shows continuity from the Deverel Rimbury
pottery types of the middle Bronze Age to the
plainwares of the later Bronze Age. Little decorated
pottery was found in Area 3000B, in contrast to the
adjacent Area 3100 previously excavated, suggesting
the settlement had shifted over time. Other artefacts
found include a shale bracelet, worked wood, with
one piece possibly from a cheese press, and a
worked piece of human skull. Interesting comparisons
are made between the flintworking, economic
activities and environment of the Neolithic and
Bronze Age farmers at this location. In the later
Bronze Age numerous deposits of burnt flint were
made in the north-east of Area 3000B, and these
grew into a substantial and unusually large elongated
burnt mound. The origin of the deposits is
discussed together with the management of the
landscape in the later Bronze Age.
Actions (login required)