Fletcher, Taleyna (2011) Ivy Farm, Baldock Road, Royston, Hertfordshire. [Client Report] (Submitted)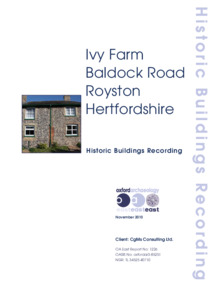 Preview
PDF




Report1226D_LR.pdf


Available under License Creative Commons Attribution Share Alike.
Download (5MB) | Preview
Abstract
Oxford Archaeology East was commissioned by CgMs Consulting to undertake the historic building recording of a number of redundant farm buildings at Ivy Farm, Baldock Road, Royston. The work took place in mid October 2010 and was carried out in accordance with a Brief issued by Andy Instone of Hertfordshire's Historic Environment Unit.
The site comprises more than 30 buildings which had previously been surveyed to English Heritage Level 2. This current survey carried out at EH Level 3 focuses on the buildings which make up the historic core of the farm and those surviving buildings which feature on the early edition Ordnance Survey Maps of the early and mid-19th century. Using photographs, drawn plans and elevations, phasing interpretation and more detailed description, this survey adds to the previous assessment, focusing on the pre-modern buildings in the group.
The survey revealed that Ivy Farm developed as a small and purpose-built arable farmstead on previously open, undeveloped land some time between 1806 and 1850. The original farm comprised a small group of structures built around a large square yard enclosed by flint walls which was extended in the later part of the 19th century. The farmhouse originally comprised two small cottages, which were developed and extended to create one farmhouse by 1871. More significant changes to the farm occurred in the second half of the 20th century, with the introduction of several ad-hoc, pre-fabricated and generic agricultural buildings located around the original core of the farm, and alteration to many of the original structures.
Actions (login required)