boardman, P (2011) Watching Brief at Hartford Mews, 13a Hartford Road, Huntingdon. [Client Report] (Submitted)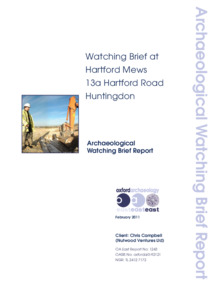 Preview
PDF




Report1243LR.pdf


Available under License Creative Commons Attribution Share Alike.
Download (719kB) | Preview
Abstract
Between 24th and 26th January 2011, OA East carried out an archaeological watching brief at Hartford Mews, 13a Hartford Road, Huntingdon (TL 2412 7172).
The archaeological watching Brief was undertaken in accordance with a Brief issued by Dan McConnell of Cambridgeshire County Council (CCC; Planning Application: 1000243FUL & 1000244CAC) (McConnell 2010), supplemented by a Specification prepared by OA East (Clarke 2010).
The work was designed to assist in defining the character and extent of any archaeological remains within the proposed redevelopment area, in accordance with the guidelines set out in Planning Policy Statement 5: Planning for the Historic Environment (Department for Communities and Local Government 2010). The results will enable decisions to be made by CCC, on behalf of the Local Planning Authority, with regards the treatment of any archaeological remains found.
The archaeological monitoring was carried out during the demolition of pre-existing foundations prior to the erection of three small dwellings. During the extraction of the old foundations, medieval layers and features were identified at a depth of 1.10m below ground level.
Actions (login required)