Fletcher, Taleyna Late 18th Century Hunting Lodge Stables and 20th Century Cold Stores at Gedney Road, Long Sutton, Lincolnshire. [Client Report] (Submitted)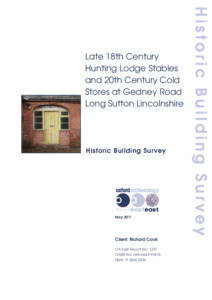 Preview
PDF




Report1257LR.pdf


Available under License Creative Commons Attribution Share Alike.
Download (6MB) | Preview
Abstract
On 30th and 31st March 2011, Oxford Archaeology East conducted a historical building survey at the former Long Sutton Cold Stores, Gedney Road on the western side of the small market town of Long Sutton, Lincolnshire in advance of alterations scheduled to be made to convert the site into a residential dwelling.
This work was carried out in response to a brief issued by Lincolnshire County Councils Historical Environment Officer. The brief required that a survey (equivalent to an English Heritage Level 2 Survey) was carried out on the existing buildings prior to major alterations to the original fabric.
Five main phases of development were identified during the survey; construction of a small rectangular building in the late 18th century followed by a second main phase of stable block and associated buildings created around a central courtyard area added soon after, also in the late 18th century. There were then alterations to the courtyard area and repair/replacement of many of the roof coverings. Cartographic sources imply that this site may have been "Chapel Bridge Farm" - however, this is unclear. In the early 20th century, some of the cottage fenestration was replaced and minor alterations made. Finally, conversion into cold stores which was complete by the early 1970s.
The most significant feature of the site is the original phase of stables which are possibly associated with the late 18th century building next to the site at 57 Gedney Road, known as The Shrubberies. Historical research has shown that the Shrubberies and the land upon which the buildings surveyed are located were once part of an estate and hunting lodge owned by the Bertie family who have held seats including the Duke of Ancaster, Earl of Abingdon, Earl of Lindsey and Baron Willoughby de Eresby. The main stable entrance, with a huge and impressive archway and now concealed from the outside, is of significant proportions may have been the 18th century hunting lodge stables once connected to the lodge (The Shrubberies). The later conversion to farm use in the 19th century and use as Cold Stores by the early 1970s is better documented (and represented on cartographic sources) and gives the site an additional local historic interest.
Actions (login required)