Rees, Gareth (2012) Medieval Ridge and Furrow Cultivation at Pulloxhill Water Treatment Works. [Client Report] (Submitted)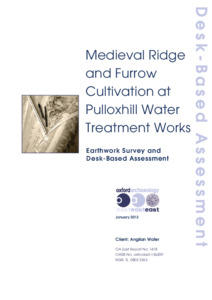 Preview
PDF




Report 1418_Final_LR.pdf


Available under License Creative Commons Attribution Share Alike.
Download (6MB) | Preview
Abstract
In October 2012 Oxford Archaeology East undertook an earthwork survey and desk-based assessment to examine the available historical and archaeological resources relating to a 1.68ha plot of land at the Anglian Water Pulloxhill water treatment works at Sand Lane, Silsoe, Bedfordshire (centred on TL 0803 3353). The site lies 1.5km to the south of the village of Silsoe and 1.7km to the east of Pulloxhill. The work was commissioned by Anglian Water before a planning application had been submitted. The aim of the assessment was to define the archaeological potential of the site in advance of potential redevelopment. The desk-based assessment will be used to determine whether an archaeological evaluation of the area is required.
The assessment consisted of consultation of all data held in the Central Bedfordshire Historic Environment Record (HER) with in 1km of the site, an analysis of aerial photographs and historic mapping and a survey of the extant earthworks on the site. Two HER entries relate directly to the site: HER3322 refers to medieval ridge and furrow cultivation; HER16353 refers to the water treatment works building itself.
Analysis of aerial photographic evidence shows that ridge and furrow covered the entire plot prior to the construction of the water treatment works in the mid 20th century.
The earthwork survey was carried out between the 17th and 18th October in order to assess the character and survival of any earthworks on the site. The survey consisted of topographic and interpretive elements and conformed to the English Heritage Level 2 survey standard.
The site is separated into two plots, front and rear, by a modern fence. Extant medieval ridge and furrow cultivation, present on 17% of the plot, was located on both parts of the site surviving to a maximum height of 0.5m and a maximum length of 89m. It is concentrated in two areas; north centre of the front plot and the central area of the rear plot. No other archaeological features were identified. Features associated with activity relating to the water treatment works were identified in both the front and rear plots. These features cover or truncate any archaeological remains.
Actions (login required)