Fletcher, Taleyna (2010) Archaeological Investigations at Wisbech Castle: A Community Archaeology Project. [Client Report] (Submitted)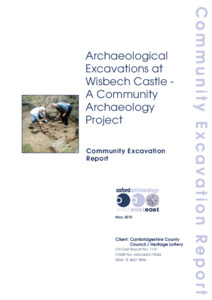 Preview
PDF




report1137_LR.pdf


Available under License Creative Commons Attribution Share Alike.
Download (8MB) | Preview
Abstract
The Wisbech Castle archaeological investigation was part of a series of community archaeology events which took place over 2009 and 2010. The excavations at the site ran for fourteen consecutive days from the 16th to 29th September 2009. This was preceded by non-intrusive site surveys – geophysical, ground penetrating radar and building recording of the vaults, which lasted two days from the 2nd-3rd July 2009.
The investigations were run by Oxford Archaeology East and funded by Cambridgeshire County Council through a Your Heritage Grant (Heritage Lottery Fund).
The site occupied by the current Wisbech Castle built in 1816 has been the location of other significant buildings for nearly 1000 years. The first building, a Norman motte and bailey castle is thought to have been constructed around 1097 This was replaced by a palace for the Bishop of Ely in 1478 which was itself demolished and replaced by Thurloe's Mansion in 1656, elements of Thurloe's Mansion survive in the present building (also known as Wisbech Castle). This aim of this investigation was to find any evidence of the remains of the Bishop's Palace or other related structures as little documentary evidence remains.
Four trenches and forty 1m by 1m test pits were investigated, located in four different areas of the site: the lower gardens, the vaults, the upper garden and in the memorial garden. The trenches were positioned over targeted areas identified as anomalies and possible walls in the geophysical survey. The test pits were spread out across the site in search of any other archaeological evidence or remains.
The trenches revealed the remains of walls, demolition rubble, large ditches and pits as well as flood silt layers dating to the period of the Bishop's Palace. The test pits were used to identify the continuation or absence of rubble layers and structual remains as well as looking for the continuation of the vaults from above ground in the upper gardens and memorial garden. Test pits in the vaults gave an insight into structural techniques as well as potential evidence of an earlier structure pre-dating the vaults. Sequences of flood silts were also recorded in the vaults which are early medieval in date.
Actions (login required)