Pickard, Chris The Rainbows Solar Farm Willersey Gloucestershire. [Client Report] (Unpublished)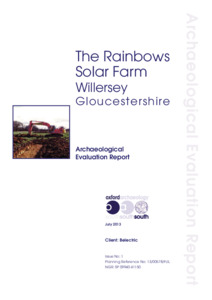 Preview
PDF




WIRA13.pdfA.pdf


Download (1MB) | Preview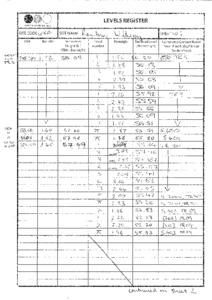 Preview
PDF




WIRA 13 hard copy.PdfA.pdf


Download (13MB) | Preview
Abstract
Oxford Archaeology carried out a trench evaluation on land at The Rainbows Solar
Energy Farm, on behalf of Belectric Solar Limited, in May 2013.
The evaluation consisted of twenty trenches located to investigate a series of
geophysical survey anomalies which were thought to be of archaeological origin.
The survey plots suggested the presence of a series of enclosures and linear
ditches. None of the trenches encountered significant archaeology and there was no
clear evidence for the supposed enclosures within the excavated trenches. Some of
the interpreted geophysical survey features coincided with plough furrows found in
the trenches.
Ridge-and-furrow cultivation marks were apparent in all but one of the 20 trenches,
although hardly any trace of the ridges survive as earthworks. The alignment of the
ridge-and-furrow in different parts of the field clearly matches the alignments as
mapped from aerial photographs. The furrows in the western side of the site are
generally aligned north-west to south-east while those in the eastern side are
aligned north-east to south-west. The differing alignments reflect medieval and postmedieval
cropping units within the Willersey open fields, prior to the 1769 Inclosure
Act.
The only other feature encountered was a small post-medieval boundary or
drainage ditch in Trench 2, which produced 17th/18th century artefacts.
Strawberry cultivation in the southern part of the field had involved some ground
disturbance. However as ridge and furrow survived in the trenches in this area the
level of disturbance is unlikely to have greatly affected the survival of archaeological
features.
Actions (login required)