Schofield, Peter and Vannan, Alastair (2012) Bangarth and Blea Tarn Iron Mines, Eskdale, Cumbria: Archaeological Survey Report. Project Report. OA North. (Unpublished)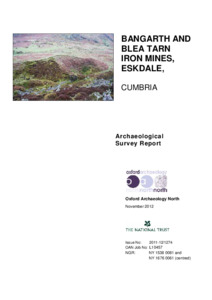 Preview
PDF




L10457_IronMines_Eskdale.pdf


Download (10MB) | Preview
Abstract
Oxford Archaeology North was invited by the National Trust to undertake a detailed topographic survey of two iron mines at Bangarth and Blea Tarn, Eskdale, Lake District (NY 1538 0081 and NY 1676 0061: approximate centre). The survey was undertaken between the 5th and 9th March 2012 and 11th November 2012.
The Eskdale mines comprise seven mines, or mine groupings, that were worked during the late nineteenth century and include Blea Tarn and Bangarth mines.
Both mines are predated by elements associated with zigzagging trackways giving access onto the common for both stock grazing and peat cutting. Sites found adjacent to these trackways include small stone quarries, peat huts, sheepfolds and shelters. The area of Bangarth mine contains extensive evidence for cairnfields/field-systems of both earth and stone construction and stone-walled boundaries. There is evidence of two putative medieval shielings and a probably later demolished farmstead, as well as a platformed stock enclosure.
The simplest distribution of mining features is that at Blea Tarn mine, which reflects that there was a single phase of development from 1871 which proved unsuccessful in finding extensive ore deposits. Elements of mine adits, trials and open cutting were evident on at least five levels, including a large drainage adit at the base of the mine.
The mining features at Bangarth mine are more complex reflecting initial stoped working of a sizeable lode at the mine from the mid-1840s through sporadic activity to the late 1860s and renewed exploration from 1871. Evidently, the extent of viable ore was such that it was deemed profitable to revisit the mine for further exploitation and, unlike at Blea Tarn mine, as is evident by the extensive spoil heaps and an inclined plane constructed for transport to the Ravenglass and Eskdale railway.
Actions (login required)