Fletcher, Taleyna (2013) Rectory Farm Barns, Great Shelford, Cambridgeshire Historic Building Survey. [Client Report] (Submitted)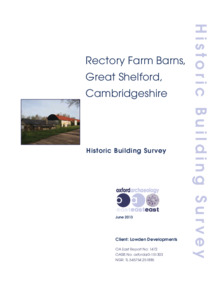 Preview
PDF




Report 1472_GSHRFB13_HBR_full_LR.pdf


Available under License Creative Commons Attribution Share Alike.
Download (7MB) | Preview
Abstract
In April 2013 Oxford Archaeology East conducted an historical building survey on a range of disused farm buildings at Rectory Farm, Great Shelford in South Cambridgeshire. This work was carried out in response to a request from Cambridgeshire County Council's Historic Environment Team (CCC HET). The brief required that a survey, equivalent to an English Heritage Level 3 Survey was carried out on those buildings which featured on the late 19th and early 20th century Ordnance Survey Maps and a Level 2 survey to be undertaken on all remaining buildings prior to any demolition or major alterations to the original fabric.
The buildings were associated with Rectory Farmhouse (outside of the development area), a listed building which is known to have origins in the 14th century. The earliest building surveyed, a large clunch barn, is thought to date to the early 19th century and is first depicted on a map of 1822. None of the other buildings depicted on this map survive.
The 19th/early 20th century buildings surveyed all centred around a farmyard area and comprised a north-south orientated clunch structure with a corrugated tin roof, a timber granary on a brick and flint plinth and stables. The later buildings included a chicken shed, an open-fronted shed with breeze-block extension and a small brick and timber shelter/store. Rectory Farm is an interesting collection of buildings, which reflect economic development in a small farm and how buildings have altered and been replaced to accommodate changes in farming practices
Several phases of development were identified during the survey spanning 150 years from the construction of the clunch barn in the early 19th century. Cartographic sources consulted during the background research revealed several other contemporary or earlier buildings flanking a central farmyard which were gradually replaced or demolished in the subsequent periods as farming methods and technologies changed. The survey revealed a number of original and interesting features surviving in many of the buildings; including feeding troughs, tack hooks in the stables and a series of carpenter's marks in the main barn.
Actions (login required)