Gill, Jonathan Lesney Products Homerton Road London Borough of Hackney. [Client Report] (Unpublished)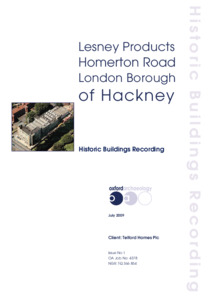 Preview
PDF




LXW09_PdfA.pdf


Download (10MB) | Preview
Abstract
Oxford Archaeology have undertaken a programme of historic building recording and investigation
at the large Lesney Products factory adjacent to Homerton Road in London Borough of Hackney.
The recording has been undertaken as a condition of planning approval granted by London Borough
of Hackney for the demolition of the complex and the redevelopment of the site by Telford Homes.
Lesney Products & Co Ltd was a manufacturing firm established in the immediate post-war period
which enjoyed huge growth in the later 1950s and 1960s, almost entirely based on the production of
Matchbox Toys. The factory in the current study was opened in 1969 as part of a great expansion in
Lesney's capacity but rather than producing toy cars this complex appears to have housed the
company's non-toy side of the business and to have produced other commercial die-castings. The
company went into liquidation in 1982 and the Matchbox brand was sold but the Homerton Road
plant (that in the current study) continued to produce castings and plastic parts for electrical
appliances until relatively recently. The surviving branch of Lesney Products have since moved to
different premises.
The existing non-listed buildings are of relatively recent date and of limited historical significance.
They are however of some social interest, partly due to the widespread and enduring appeal of
Matchbox Toys although this is limited by the fact that the toys were not manufactured at this plant.
The company was among Hackney's largest employers in the 1960s and 1970s and there will no
doubt be many people still living who worked at this plant and have happy memories from their time
there. The high profile nature of the building, especially the tall southern elevation with a large sign
for 'Lesney Matchbox Toys' will have made the building a well-known local landmark.
As well as the social interest the building is also of some architectural and industrial archaeological
interest. The building is designed in an attractive modernist style where the structural frame is
expressed on the exterior of the building and there is considerable variety in the massing and
materials used. It is a good example of industrial architecture and of a planned factory from the
1960s. The industrial archaeological interest comes from the survival of a number of internal
features relating to the former use of the building (foundry, conveyor belts etc) and the
understanding of the complex is considerably enhanced by an excellent set of 1960s architects
drawings. In the 19th and for much of the 20th century Hackney was an important manufacturing
centre and the Lesney Factory with its industrial character is symbolic of this now largely lost
heritage.
Actions (login required)