Clover, Kate (2014) Archaeological Excavation at 'Site 2', Nacton Road, Ipswich, Suffolk, IPS719. [Client Report] (Submitted)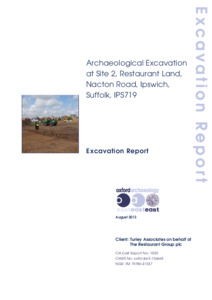 Preview
PDF




XSFNAC13_Report_1500_LR.pdf


Available under License Creative Commons Attribution Share Alike.
Download (7MB) | Preview
Abstract
In May to June 2013 Oxford Archaeology East carried out an excavation at 'Site 2' Nacton Road, Ipswich, near to Ravenswood Housing Estate. The excavation of the 0.47 ha area was prompted by a planning application for a restaurant development with associated car-parking. The site lay in an area that had previously been occupied by Ipswich Airport and had, during World War II, been used as an RAF airfield.
The area was stripped by mechanical excavator and all exposed archaeological and natural features were recorded. The earliest feature was a pit containing a deposit of Beaker pottery dating to the Late Neolithic or Early Bronze Age. A number of pits without datable finds may also be contemporary. A system of four prehistoric field boundary ditches probably dating to the Middle Bronze Age was recorded, suggesting that this area was utilised as fields in this period. This ties in with settlement recorded to the north of the Site and a barrow cemetery to the south.
Another phase of agricultural use of the Site is represented by a droveway at right angles to Nacton Road and probably dating to the Late Iron Age or Roman period. This may link up with another droveway and fields excavated to the south-west of the Site.
A number of small charcoal-filled pits with evidence of in-situ burning are likely to have had some industrial purpose, for example charcoal burning or metalworking. One of these pits has been dated to the Middle Anglo-Saxon period and it is likely that the remainder are contemporary or perhaps carried on into the medieval period. Small amounts of possible hammerscale within their fills suggests that the charcoal may be have been burnt for the purposes of iron smelting or smithing.
There was no definite evidence of Second World War defences or airfield features within this Site.
Actions (login required)