Vannan, Alastair (2012) Kingswood College of Arts, The Ings, Kingston Upon Hull: Archaeological Desk-Based Assessment. Project Report. Oxford Archaeology North. (Submitted)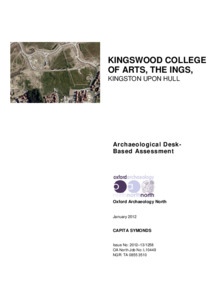 Preview
PDF




L10449_KingswoodCollege_FullRep.pdf


Download (9MB) | Preview
Abstract
In December 2011 Capita Symonds commissioned Oxford Archaeology North (OA North) to undertake a desk-based assessment associated with proposed development at Kingswood, The Ings, Kingston Upon Hull. The desk-based assessment was undertaken in order to provide an understanding of the likely impact of the proposed development on heritage assets.
Until the early twentieth century the character of the local area was dominated by agriculture, initially as a portion of flood plain within a loop of the river Hull that was gradually subject to drainage and flood alleviation banking. Increased drainage and flood alleviation was instigated in the area in 1675, an action that led to the enclosure of the area into individual plots by at least 1773. These plots were gradually subdivided into smaller field units.
Three sites, or heritage assets, were identified within the study area as a result of the desk-based assessment and walkover survey, which relate to differing phases in the historical development of the local landscape. These consist of the Main Dyke (Site 2), which is the earliest identified site in the study area, a field boundary (Site 1), which relates to the sub-division of the landscape after the installation of the dyke, and Ings Road (Site 3), which was first identified as a track on mapping from 1842, but is likely to date to at least as early as 1773. There were no sites with statutory protection identified within the study area.
Actions (login required)