Vannan, Alastair (2012) Melmerby Moor, North Yorkshire: Archaeological Landscape Survey. Project Report. Oxford Archaeology North. (Submitted)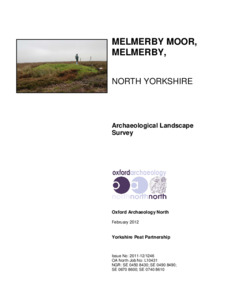 Preview
PDF




L10431_MemrbyMoor_FullRep.pdf


Download (28MB) | Preview
Abstract
Oxford Archaeology North (OA North) was invited by Yorkshire Peat Partnership, to undertake a landscape survey and assessment of re-wetting on four areas of Melmerby Moor, North Yorkshire (SE 045 843, SE 049 849; SE 067 860; SE 074 861). The programme of work in accordance with a brief by Miles Johnson of Yorkshire Dales National Park Authority (YDNPA) and was undertaken in order to provide an assessment of the archaeological impact of a programme of peat restoration and corresponding cutting of heather. The survey was undertaken as an enhanced Level 1-type survey (English Heritage 2007) and encompassed four discrete areas with a combined area of 0.43km2.
Nine sites of archaeological interest were identified during the survey, which can be divided into five broad categories consisting of quarries, a putative lime kiln, cairns, features associated with game shooting, and a possible structure. Animal disturbance, which might be mistaken for a site created by human action was also encountered. The sites are likely to range in date from at least as early as the early post-medieval period to the present day. The structure could, however, date to as early as the medieval period and the generic form of the cairns is recognisable from as early as the Neolithic period and continued in use until the modern period.
It is recommended that the peat and heather operations avoid the identified archaeological remains, which are relatively localised in extent.
Actions (login required)