Beamish, Hugh and Champness, Carl and Lawrence, Steve (2009) Land Adjacent to Oldbury Power Station, Shepperdine, South Gloucestershire. [Client Report] (Unpublished)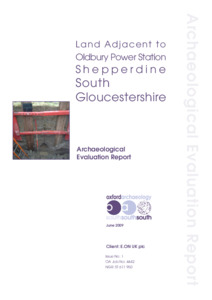 Preview
PDF




BRSMG2009.34phase1.pdf


Download (5MB) | Preview
Abstract
In June 2009 E.ON UK commissioned Oxford Archaeology South to assess and mitigate the impacts of geotechnical investigations on the archaeological resource at land north of Oldbury Power Station in Gloucestershire. The investigation was multi-disciplined and included documentary research, earthwork survey, watching brief and trial pit excavation.
The documentary research outlines clearly that Oldbury Power Station and the land adjacent to this lie within an area of known significant archaeological activity dating from the Mesolithic to Roman period. The historic landscape is also very well preserved with extant ridge and furrow remains present across most of the area. Associated field boundaries and historic farms reflect add to this representing a very coherent landscape effectively documenting the development of the area from the late medieval landscape into the post-medieval enclosed pasture farmland as present today.
The geotechnical investigations necessitated the construction of a temporary compound area that removed an area of earthworks. These were surveyed and recorded prior to removal. A watching brief undertaken upon the topsoil removal of the compound area established that potential archaeological horizons were not impacted upon by the construction of the compound.
The geotechnical seismic survey utilised a 50g explosive charge buried 2 m deep into the underlying sediments. Controlled archaeological excavation and sampling of two discharged survey locations established that this survey method has a very localised impact on the surrounding sediment that is unlikely to significantly affect archaeological remains. This creates a c 0.35 m crater and an additional 50 mm zone of liquefaction and 'compaction' around the crater.
Actions (login required)