Meara, Hefin and Haines, Tim North Field Filton Airport. [Client Report] (Unpublished)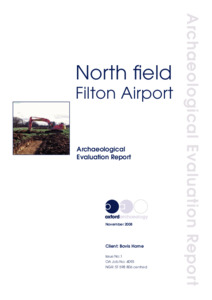 Preview
PDF




BRSMG_2008_41_PdfA.pdf


Download (6MB) | Preview
Abstract
Between June and October 2008 Oxford Archaeology undertook an evaluation by trial trenching and the monitoring of contamination remediation of land at North
Field, Filton Airfield, South Gloucestershire (NGR: ST 598 806 centred) on behalf of Bovis Homes and BAE Systems.
A total of 269 trenches were proposed for the evaluation. 154 of these trenches were excavated, while the locations of 45 trenches were monitored by Watching
Brief. The remaining 70 trenches are to be excavated at a later date, as areas become available. Five additional trenches were excavated at the request of the
Archaeology and Conservation Officer.
The evaluation revealed the site to have been heavily truncated by ploughing and landscaping relating to the use of the site as an airfield during the 20th
century.
Archaeological remains consisted of a sparse collection of field boundaries and isolated small pits. The majority of these features were undated by artefactual
means, although a small number dated to the Iron Age and Romano-British Period.
The evaluation revealed two further features of note:
The first was a large pit or waterhole dating to the Iron Age. This feature, along with the small number of ditches and small pits recorded during the course of the evaluation are among the only Iron Age and Romano-British archaeological remains known from within the study area.
The second feature was a collection of limestone walls located in the eastern part of the site. These appear to be the remains of a limekiln structure noted on the 1881
O.S. map.
In addition, a small number of features were observed that relate to the use of the site as a military airfield.
Area A
During the 2nd and 3rd of February Oxford Archaeology (OA) undertook the stripping
of feature 305 in the north of the site revealed during the evaluation (OA 2008) in
Trench 3. The stripping of the feature was not completed due to the presence of a
gas-pipe. A stepped sondage was excavated to the bottom of the feature 3.8 m
below current ground level. The feature contained three clay fills 28001, 28000 and
304. All the fills contained modern CBM, plastic and concrete. Excavation was terminated following consultation with Paul Driscoll of South Gloucestershire Council.
Actions (login required)