Donnelly, Mike and Ford, Ben and Teague, Steve Rushey Weir Bampton Oxfordshire & The Excavation of Mesolithic Flint and an Early Medieval Enclosure at Rushey Weir Burcot. [Client Report] (Unpublished)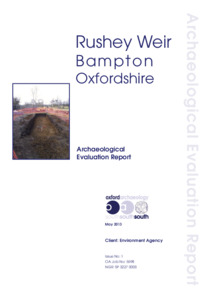 Preview
PDF




BURF_eval_pdfA.pdf


Download (3MB) | Preview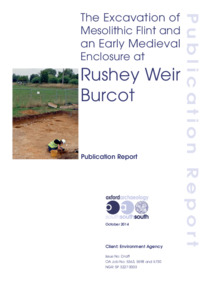 Preview
PDF




BURUW08_BURUWE12_BURF13_Client_report.pdf


Download (1MB) | Preview
Abstract
In April 2013 Oxford Archaeology (OA) carried out a field evaluation at Rushey Weir,
Bampton, Oxfordshire on behalf of the Environment Agency who are proposing to
construct a fish pass at the site. The evaluation comprised four 8 m long trenches
equally spaced along the route of the proposed fish pass that is situated on land,
immediately south of the River Thames, and between two early Neolithic Scheduled
Ancient Monuments. Three of the four trenches were targeted on the locations of
known cropmarks while the fourth represented a control trench.
Archaeological features were found in all four trenches. Trench 1 located over a
large discrete cropmark revealed a large tree-throw containing late Mesolithic or
early Neolithic flints, and a small pit that contained a single sherd of late Bronze Age
pottery. Trench 2 was located over a very similar cropmark and revealed a large pit
of Medieval date with pottery and animal bone, cut by a shallow N-S orientated
ditch. Trench 4 revealed one of the two ditches that were present as cropmark
evidence. This feature was fairly substantial and contained medieval pottery sherds.
It was cut by a large pit containing more medieval pottery but this feature appeared
to cut the subsoil and the sherds may be residual. Despite its size, the pit was not
visible as a cropmark. Trench 3 was the control trench and revealed a possible pit
and a posthole, with no finds and part of a feature that has been interpreted as a
treethrow or paleochannel which contained a small number of struck flint.
The results of the evaluation indicate that archaeological remains survive at the site,
and date to the late Mesolithic/Early Neolithic, Bronze Age and Medieval periods.
Some of this activity is probably contemporary with the adjacent SAMs, but there is
a possiblity that some predates them; the medieval remains attest to previously
unaknowledged occupation from this period and perhaps attest to the historical
longevity of the weir.
The positions of the excavated features broadly corresponded with the known
cropmarks, other features were not visible as cropmarks, and some cropmarks did
not appear to have corresponding features.
&
Small-scale excavations in advance of the construction of a fish pass were focused on
an important area of cropmarks just south of Rushey Weir and Lock, thought to
represent a Neolithic causewayed enclosure and mortuary enclosure. In the event, the
excavations found nothing of this date, but recovered a rare assemblage of probably
late Mesolithic flint, and evidence for an enclosure of the late 10th or early 11th
century that surrounded a post-built building. It is likely that the enclosure and
building were associated with control of the Thames crossing.
Actions (login required)