House, Jonathan (2012) Medieval Undercroft and Backyard Activity to the rear of Nos. 46-48 St. Giles Street, Norwich. Project Report. Oxford Archaeological Unit Ltd. (Submitted)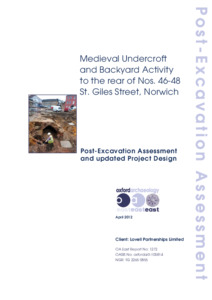 Preview
PDF




Report_1272_LRPXA.pdf


Available under License Creative Commons Attribution Share Alike.
Download (2MB) | Preview
Abstract
OA East carried out a building recording survey, an evaluation and subsequent excavation with associated watching briefs on land to the rear of 46-48, St Giles Street, Norwich. The project was undertaken in advance of redevelopment of the YMCA, who currently use the site and were seeking to improve the existing facilities.
This post excavation assessment integrates all the fieldwork undertaken by OA East on the site, the main component of which was the excavation which took place between December 2010 to January 2011.
The evaluation established the survival of archaeological remains across the site with variable levels of modern truncation, the deposits spanning the early medieval to post-medieval periods. A Watching Brief was carried out prior to the main excavation phase to observe the removal of the modern concrete foundations, which were in places deep and extensive.
Once the demolition works were complete, site stripping commenced under close archaeological supervision. The majority of the surviving late post-medieval garden soils were removed at this stage, to reveal in large portions of the site, an intact sequence of archaeological deposits, dating from early medieval to the late post medieval periods. The archaeological features were indicative of urban backyard activity, dating to the medieval period, including numerous wells, refuse pits, and quarry activity. A notable discovery was the surviving structural remain of a sunken room or basement, that was identified as early within the archaeological sequence and heavily robbed out, however an adjoining set of steps were still surviving. A further basement structure was also revealed consisting of the visually impressive remains of a medieval brick undercroft, with a near perfectly preserved side chamber. Despite being heavily truncated in parts, the existing remains indicated that it had been an extensive structure.
Actions (login required)