Fletcher, Taleyna (2012) Land at Hazel End, Bishops Stortford, Hertfordshire. [Client Report] (Submitted)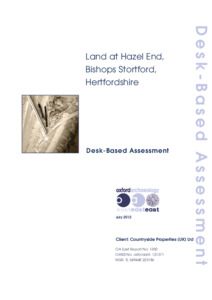 Preview
PDF




XHTHAZ12_Report_1350_full_LR.pdf


Available under License Creative Commons Attribution Share Alike.
Download (2MB) | Preview
Abstract
In March 2012 Oxford Archaeology East (OA East) were commissioned by Countryside Properties (UK) Limited to undertake a desk-based assessment for a c.25.8ha site at Hazel End to the north of Bishops Stortford, in East Hertfordshire. The aim of this report is to assess the presence, nature and extent of any heritage assets likely to be affected by the proposed housing development.
The site comprises two main areas divided by Hazelend Road; 19.5 hectares on the west of the road and 6.3 hectares on the east. The site is located to the immediate north of the town of Bishops Stortford within a rural setting, close to the county boundary with Essex. It is bounded to the immediate north by the A120 and to the east by the route of the railway which leads onto Stansted.
Cartographic sources indicate that from at least the mid 18th century the western part of the site has been a large open field which gradually became enclosed and sub-divided, with a small triangular-shaped area being under woodland that is present on the late 19th century maps. The part of the site which is located on the eastern side of Hazelend Road may have been situated too close to the River Stort to have been utilised in the same way; it was however used as a racecourse in the late 19th century and for the extraction of chalk, also around that time.
The aerial photographic assessment indicates that the area to the west of Hazelend Road contains a feature to the immediate south of the A120 which may be archaeologically significant, and is persistently visible on aerial photographs. This area also contains a zone of possible pits in addition to traces of possible medieval ploughing and post-enclosure boundaries. The part of site to the east of the road contains an area of possible pits and a very small feature which may be a former ditch.
Assessment of the distribution of known finds, listed buildings and archaeological investigations in the vicinity of the site indicates that the site has a low to moderate level of archaeological potential. There is low potential for deposits of prehistoric date but more moderate likelihood of encountering Roman deposits given the proximity of the site to the Roman town of Bishops Stortford. The post-medieval period has the highest potential for buried remains in the form of quarry pits and agricultural activities including ploughing and former field boundaries.
Actions (login required)