Gill, Jonathan The Old Malthouse Paradise Street Oxford. [Client Report] (Unpublished)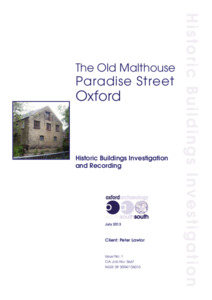 Preview
PDF




OX19PS13.pdfa.pdf


Download (4MB) | Preview
Abstract
Number 19a on the west side of Paradise Street forms one of the relatively few
surviving buildings from the historically important brewing and malting industries in
Oxford. The building formed part of the Swan Brewery, one of the industry's principal
sites in the city but it was separated from the main brewery by the Castle Mill Stream
and it appears to have formed part of a maltings complex associated with the Swan
Brewery. The building is known as the Old Malthouse but its form is not that of the
classic malthouse and it may be that it formed a storehouse within the maltings.
There are some small windows in the building suggestive of a maltings but they are
found more in the gable ends than in the main walls and there is no indication of the
building having had a kiln, a steep or low ceiling heights, other diagnostic signs of a
malthouse. It is possible that building had a number of uses in different periods and
that it did serve as a malthouse for a period but it seems unlikely that this was its
original function.
The building is an interesting and valuable survival from the city's brewing past and it
contributes to the character of this part of the conservation area. The building lost its
industrial function many years ago and it was converted to offices in the later 20th
century (probably 1980s). The current investigation relates to proposals to convert the
building from offices to residential accommodation and it has allowed an archive
record to be made of the structure.
The interior of the building retains few visible features relating to its historic use but
there is evidence of a series of former posts which would have supported the first floor
and an interesting range of marks on the timbers of the roof trusses. These marks
include both carpenter's marks, which would be made during the construction process
and importers marks which would be made by the trader or shipping company to
indicate the destination, the grade or quality of the timber.
Actions (login required)