King, Laura Land at George Green Slough Buckinghamshire. [Client Report] (Unpublished)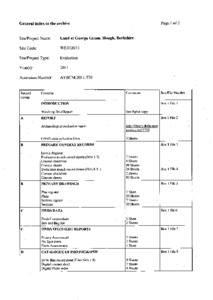 Preview
PDF




WEXGG11 Land at George Green, Slough, Berkshire_A1b.pdf


Download (16MB) | Preview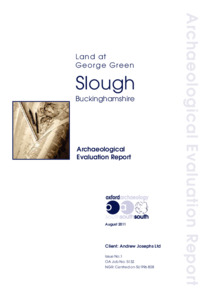 Preview
PDF




WEXGG11_pdfA.pdf


Download (26MB) | Preview
Abstract
In August 2011 Oxford Archaeology South (OAS) carried out an archaeological
evaluation at George Green, Slough, Buckinghamshire. The evaluation comprised
22 trenches measuring 50m x 2m, with an additional 10 trenches targeted on a
number of anomalies recorded in a geophysical survey of the site.
The investigation revealed a potential later prehistoric trackway, along with sparse
evidence for prehistoric activity in the northern half of the site. The precise date and
character of this activity was unclear. In addition, some evidence for early Roman
activity was found, in the form of occasional sherds of pottery, but, again, the nature
of the activity was unclear. For both periods, the paucity of artefactual material
recovered suggests that the activity was not related to settlement on the site itself.
Evidence for medieval agriculture, in the form of remnants of furrows, was found
across much of the site, truncated by more recent ploughing. A field boundary ditch
shown on the 1809 enclosure map of the area was located in the north-eastern
corner of the site and, along with a number of other features in this area, is likely to
be of post-medieval date - early medieval pottery recovered from this feature is
probably residual in nature.
Actions (login required)