Fletcher, Taleyna (2013) Medieval Settlement at the Former Police Station Site, Cambridge Road, Linton, Cambridgeshire. [Client Report] (Submitted)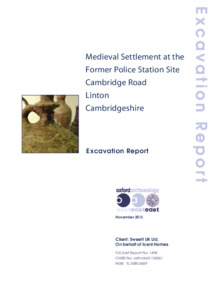 Preview
PDF




Report 1494_LR.pdf


Available under License Creative Commons Attribution Share Alike.
Download (2MB) | Preview
Abstract
In June 2013, an archaeological excavation was carried out by Oxford Archaeology East (OA East) on land at 9-15 Cambridge Road, Linton, Cambridgeshire (TL 5580 4659). Until recently, this had been the site of a former police station and police housing, which are scheduled to be demolished and replaced by eighteen new affordable homes.
An excavation area measuring approximately 25m by 11m was investigated, located as closely as possible to, and parallel with, Cambridge Road, a busy main road which skirts the south side of the village.
The site had previously been evaluated by OA East in May 2013. The evaluation recorded several post holes and pits, which contained several sherds of unabraded 13th-14th century pottery. It seemed likely that these features represented a medieval building of some form adjacent to Cambridge Road, and it was around these trenches that the excavation area was targeted. Other trenches on the site recorded several 19th century features which also appeared to have a structural origin. These are likely to relate to a structure shown on the 1838 enclosure map, as well as the first edition (1885) and second edition (1901) Ordnance Survey maps of the area.
The excavation revealed two phases of buildings in the form of post holes dating from the early medieval and medieval period, spanning approximately 300 years, and corresponds with that recorded in the evaluation of the site. Sufficient pottery was recovered from the features recorded to identify two separate phases, represented by two separate buildings: an early medieval building at the eastern end and a medieval building constructed within a deliberate terraced cut at the western end. The terraced cut was clearly visible within the edges of the excavation area, where soil coverage ranged from 0.15m thick at the eastern road-side baulk, up to 1.40m in the western corner.
The environmental results indicate that the material recovered from the post hole fills most likely accumulated during the early use of the structures. It is possible that the structures represent outbuildings used for the storage of grain and possibly stabling for horses. However, the pottery assemblage is broadly domestic in character and indicates domestic occupation on or close to the area of excavation from the mid 11th century onwards.
This area appears to have been part of the early medieval development of Linton, yet the realatively low levels of material recovered suggests that this part of the village was under-developed throughout the early medieval and medieval period with many of the features having been backfilled by the mid 13th century. The site had been completely abandoned by the mid-14th century.
The buildings are likely to have been part of the post-conquest expansion of the village, with the area being abandoned in the later 14th century.
Actions (login required)