Atkins, Robert and Lyons, Alice (2013) Library Site, 266 Broadway, Yaxley. [Client Report] (Submitted)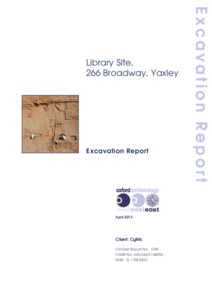 Preview
PDF




report1396_AC_Edit_LR.pdf


Available under License Creative Commons Attribution Share Alike.
Download (2MB) | Preview
Abstract
Between the 6th and 9th August 2012, OA East conducted an archaeological excavation over a c.10m by 7m area at the Library site, 266 Broadway, Yaxley, near Peterborough.
The excavation has provided evidence of a previously unknown Roman settlement or farmstead dating to the mid to late 1st century and contemporary with the Roman fort at Longthorpe some 7km to the north.
Four phases of activity have been identified suggesting that the settlement may prove to have greater longevity than the current dating would suggest. No clear dating evidence was found in the earliest and latest phases.
The most significant finds were the remains of a demolished kiln and a large assemblage (6.93kg) of pottery dating to approximately AD 70. The kiln was producing grey ware sand tempered vessels in new forms such as cordoned and carinated jars and bowls as well as platters.
Pottery not produced on the site includes a cheese press that may have been made in the Longthorpe kilns as well as samian ware from Gaul and a white ware sherd from Verulamium (St Albans), both of which could have reached the Broadway site via the vicus market at Longthorpe.
As well as the production of cheese, charred cereal grains are evidence for the cultivation and processing of spelt wheat and a small assemblage of primary butchery waste shows that sheep and cattle were farmed and slaughtered nearby.
Actions (login required)