Clover, Kate (2013) Desk-Based Heritage Assessment Manor Farm, Green End, Pertenhall, Bedfordshire. [Client Report] (Unpublished)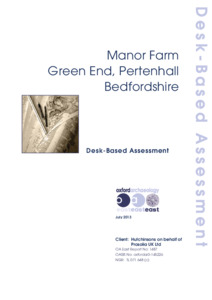 Preview
PDF




DBA_1487_issued_LR.pdf


Available under License Creative Commons Attribution Share Alike.
Download (4MB) | Preview
Abstract
This report assesses the potential impacts upon the Archaeology and Cultural Heritage resource within a 1km search area around the proposed Solar Farm scheme at Manor Farm, Green End, Pertenhall. It also examines the impact of the proposed development on the settings of designated Heritage Assets within a 4km radius around the Site. This has been achieved by combining existing information about the Search Area with new information gathered during the course of the study. It provides an assessment of the potential construction and operational impacts upon archaeological deposits and historic monuments.
The Site is currently one large arable field occupying a ridge of land between 40m and 70m OD, within the Riseley Claylands Landscape Area. It is close to the medieval settlements of Pertenhall, Swineshead and Keysoe and is thought to have been used as a deer park in the medieval period. Evidence of archaeology from the Mesolithic, Neolithic, Bronze Age and Anglo-Saxon periods through to the post-medieval has also been identified within the search area. A programme of archaeological trial trenching carried out within the Site has identified archaeological remains mainly dating to the Late Iron Age, early Roman, medieval and post-medieval periods.
This assessment demonstrates that there is the potential for surviving archaeological remains within the Site, in particular those dating to the Late Iron Age, Roman and medieval periods. The majority of the Site has been subject to little modern disturbance. As a result, any archaeological deposits are likely to be in a good state of preservation, although they may have been affected by arable farming practises dating from the medieval and post-medieval periods.
The construction of the proposed new arrays, sub stations, cable trenches and access roads have the potential to have a direct and permanent effect upon archaeological deposits.
There are no Listed Buildings, Scheduled Ancient Monuments, Conservation Areas or Historic Parks and Gardens within the Site itself but there are 10 Listed Buildings within the 1km search area. The 4km radius around the Site contains 174 designated heritage assets – three Scheduled Ancient Monuments, three Conservation Areas and 168 Listed Buildings.
Actions (login required)