Atkins, Robert (2014) Late Iron Age and a Saxo-Norman to early medieval settlement at Moulton College Holcot Site, Moulton, Northamptonshire. [Client Report] (Unpublished)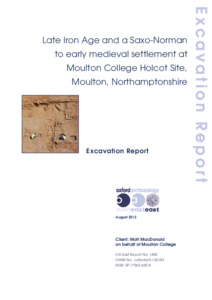 Preview
PDF




report1492_LR.pdf


Available under License Creative Commons Attribution Share Alike.
Download (3MB) | Preview
Abstract
Between 25th June and 2nd July 2013 Oxford Archaeology East conducted an archaeological strip, map, record and excavation at Moulton College Holcot Site, Moulton, Northamptonshire in advance of development of student residences, related access roads and car parking.
This excavation and a previous evaluation found archaeological remains only within the northern part of the proposed development. A single relatively large Late Iron Age pit was uncovered in the north-western part of the excavation area. This pit contained a moderate quantity of artefacts and some burnt cereal including spelt wheat (chaff elements show it was being cultivated), oats and weed seeds suggesting a settlement of this period was nearby. Two residual Roman pottery sherds were also recovered.
Also revealed were at least two phases of Saxo-Norman to early medieval occupation located in the northern part of the site and less than 100m from Castle Hill, a site known for its medieval manor. This settlement was probably contemporary with medieval Moulton located more than 0.5km to the south-east. It may be evidence that Moulton was a polyfocal settlement during the earlier medieval period. It may have been associated with one of the minor manors or one of the under-tenants to the main manor recorded in the Domesday Survey for Moulton (1086).
Early medieval features included quarry pits, possibly for sand, as well as isolated pits that may have had a domestic function and one rectangular pit that contained evidence for cereal processing, and may have had a specific related function. A second phase of activity was indicated by the presence of possible boundary ditches that may indicate deliberate planning or reorganisation took place in the 12th century.
Actions (login required)