Fletcher, Taleyna (2013) Showsley Grounds, Easton Neston, Northamptonshire. [Client Report] (Unpublished)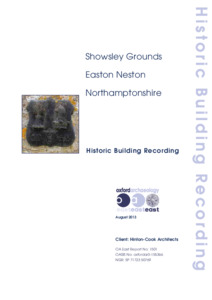 Preview
PDF




Report 1501_LR.pdf


Available under License Creative Commons Attribution Share Alike.
Download (3MB) | Preview
Abstract
In July 2013 Oxford Archaeology East conducted a historical building survey on a range of redundant farm buildings at Showsley Grounds in the parish of Easton Neston near Towcester in south Northamptonshire.
This work was carried out in response to a request from Northamptonshire County Council's Archaeological Advisor. The brief required that a survey, equivalent to an English Heritage Level 2 Survey, was carried out on all of the "historic buildings" prior to any alterations to the original fabric.
Four main phases of development, spanning approximately 100 years, were identified during the survey beginning with the construction of the earliest buildings in 1868, as part of the Easton Neston Estate farm improvements. There followed subsequent alterations to reflect changes in agricultural practices, through to the construction of two large storage units in the mid 20th century which mark the introduction of large mechanical farm machinery.
Showsley Grounds is located on the known site of Sewardsley Priory, a known Cisrtercian Nunnery. This site has previously been investigated through archaeological evaluation by Channel 4's Time Team, where burial grounds and extensive remains of the nunnery were found surrounding the farmhouse to the south-east. Elements of the current farmhouse (not part of the development area) are also thought to have been constructed using stonework from the original nunnery.
The earliest map consulted was a map of Easton Neston House and Village dated 1844 (Figure 3), which depicts a range of buildings pre-dating those surveyed. A date plaque, supported by cartographic and written historical accounts, indicated that the buildings were all replaced in 1868 to create a planned layout around a farm/courtyard. The new buildings comprised accommodation for cattle, cart sheds and a possible threshing barn. The early Ordnance Survey map suggests little alteration has occurred to the layout of these 1868 buildings since their construction, although evidence from the survey indicated their uses may have changed. Two large storage buildings were added to the site in the mid-late 20th century.
The survey identified a number of interesting original features including wooden feeding troughs, original brick floor surfaces in the stables and a date plaque and an iron hopper bearing the crest of the Fermor-Hesketh family who resided at Easton Neston House, to which Showsley Grounds belong.
Actions (login required)