Fletcher, Taleyna (2013) The Jennie Lee Centre, Wednesfield, Wolverhampton Historic Building Survey and Desk-Based Assessment. [Client Report] (Unpublished)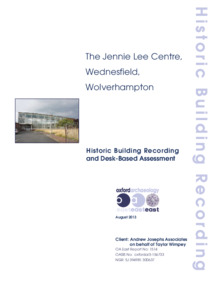 Preview
PDF




Jennie_Lee_Report_full_LR2.pdf


Available under License Creative Commons Attribution Share Alike.
Download (8MB) | Preview
Abstract
In August 2013 Oxford Archaeology East conducted an historical building survey at the Jennie Lee Centre in the Wednesfield district of Wolverhampton.
This work was carried out in response to a request from Wolverhampton City Council Historic Environment Service. The brief required that a survey, equivalent to an English Heritage Level 2/3 Survey was carried out on the original school buildings as well as a detailed desk-based assessment to investigate the background of the site.
The Jennie Lee Centre was originally constructed as the Wards Bridge Secondary School which was constructed in 1955. Background research at Wolverhampton City Archives uncovered a number of interesting documents relating to the construction of the school and its formal opening in 1958 through to its closure in 1988. Maps, newspaper cuttings and governors records and minutes provide an insight into the development and running of the school as well as the names of the architects and contractors involved in the design and construction of the building. The building was re-launched as the Jennie Lee Centre, a professional training and conference venue in 1990, named after the MP for the Cannock constituency, which included Wednesfield. The centre finally closed in 2009.
The survey of the fabric of the building revealed that the layout has changed very little since its construction, except for internal modernisation and the addition of a wing at the eastern end in the mid 1970s.
Despite modernisation when converted into the Jennie Lee Centre, most original features and key designed room layouts still exist including a large, well lit hall, boys and girls gymnasiums and the locations of the science, art and woodwork rooms. The classrooms were located within two four storey towers designed in a cross shape.
The school is a good example of a post-war educational establishment where the emphasis on the design was to create large, well lit spaces in contrast to the existing Victorian schools which were notoriously cramped and poorly heated and lit. The development of new building techniques and availability of pre-fabricated materials, overhaul of the building procedures, and close co-operation between architects, the Local Education Authorities and educationalist helped modernise and add innovation to school architecture in the post-war years.
Actions (login required)