Clarke, Rachel (2013) Iron Age Cultivation and Settlement Features and Post-Medieval Boundaries at Land North of Buntingford, Hertfordshire. [Client Report] (Unpublished)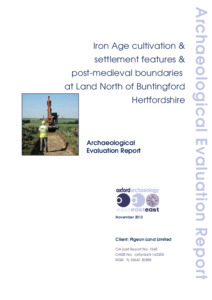 Preview
PDF




FINAL REPORT 1543_LR.pdf


Available under License Creative Commons Attribution Share Alike.
Download (2MB) | Preview
Abstract
Between 7th and 21st October 2013 Oxford Archaeology East conducted an evaluation on land north of Buntingford, Hertfordshire. Fifty-one trenches (2550 linear metres) were excavated across three arable fields over an area encompassing c.17ha; these were designed to target a number of geophysical anomalies as well as apparently blank areas.
The most northerly field (A) was largely devoid of archaeology, apart from a few narrow Iron Age ditches in the northern part along with several post-medieval post-holes and ditches. A group of large medieval/post-medieval pits/quarries was also investigated towards the centre of the field, which corresponds with anomalies identified by the geophysical survey.
Field B contained the most extensive archaeological remains, although these were relatively dispersed. Earlier Iron Age shallow ditches/possible hollow ways were present, sealed by a colluvial layer, along the eastern edge of the field, adjacent to Ermine Street. The western third of the field was largely occupied by an extensive series of parallel, slightly sinuous cultivation ditches aligned NNW-SSE, tentatively dated to the Iron Age. Located to the north-east of these was a shallow ditch/hollow way aligned east-west with possible wheel ruts surviving in its compacted base; this contained a mixture of earlier and Middle Iron Age pottery. At least one possible area of dispersed occupation was identified towards the centre of the field, represented by a few post-holes, gullies and possible pits containing earlier and Middle Iron Age pottery. Several post-medieval ditches were also recorded, most of which correlate with boundaries and enclosures shown on historic maps and/or identified by the geophysical survey.
Scattered archaeological features were present in Field C, at the southern end of the study area. A curving gully or ring-ditch containing a moderate quantity of Middle Iron Age pottery, along with an associated post-hole, may represent the edge of another settlement focus located adjacent to Ermine Street. A probable ditch was found to the north-east of this, while a scatter of undated (possibly prehistoric) and post-medieval ditches and gullies lay to the west.
The finds assemblage from the site includes a moderate collection of mostly earlier to Middle Iron Age pottery, with a few later fabrics; the presence of Middle Iron Age pottery is a relatively rare occurrence in Hertfordshire. The moderately large lithic assemblage suggests relatively intensive and prolonged activity/occupation of the site throughout the prehistoric period. Other finds are infrequent and mostly comprise later medieval and post-medieval metalwork including nails and horse-related items, along with small abraded fragments of CBM. The environmental potential of the site appears to be somewhat limited (perhaps implying that the main settlement focus lay elsewhere), with only small quantities of fragmented animal bone being present within features and very few plant remains being recovered from the bulk samples.
Actions (login required)