Webster, Michael (2014) Test-Pitting and Watching Brief at the Gothic Folly, Wimpole Park, Cambridgeshire. [Client Report] (Unpublished)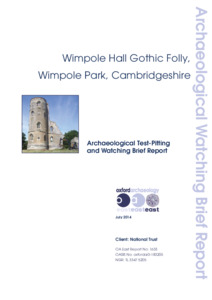 Preview
PDF




WPLGOF14_Report1633_LR.pdf


Available under License Creative Commons Attribution Share Alike.
Download (9MB) | Preview
Abstract
Between 11th and 27th of June 2014 Oxford Archaeology East carried out an Archaeological Watching Brief and Test Pit Evaluation at the Gothic Folly, Wimpole Hall, Cambridgeshire. The work was carried out on behalf of the National Trust in advance of and to inform a programme of consolidation and restoration works at the Folly.
The Folly (a Grade 2* Listed Building) was originally constructed as a 'Gothick sham ruin' during the late 1760s, following a design by Sanderson Miller. It stands on Johnson's Hill in the North Park of Wimpole estate, with panoramic views across the estate, house and gardens.
As a result of the archaeological work, numerous features and deposits (some of which were unexpected finds) associated with the original construction and later use of the Folly have been revealed and recorded in-situ. Notable elements include the discovery of the original brick courtyard surface surviving beneath soil and vegetation within the Folly, along with several brick pathways and entranceways that provided access to the interior of the Folly and towards the three towers. The remains of the west end of a former wall shown on contemporary drawings of the Folly were also identified.
Evidence associated with the conversion of the South Tower for domestic use in the 19th century was revealed, including pathways, two external stairways and a terraced area, which gave access to upper storeys in the tower. Later additions to the Folly also include the foundations of a series of buildings or rooms that may be the remains of 19th or early 20th century dog kennels, presumably built during the time when the Head Game Keeper occupied the South Tower.
Numerous finds were recovered during the works, mostly from machine and hand clearance of overburden, rubble and/or vegetation layers. The range and date of the finds not only reflect the nature of the original construction of the folly (notably bricks, tiles, structural fixtures and fittings etc.), but also its use during the 19th century and its temporary conversion for domestic occupation which lasted into the early 20th century. In addition to structural material, finds relating to the latter include pottery/china, bottle and window glass, clay tobacco pipes, a buckle, shotgun cartridges and a small pewter cup. More personal items comprise the lens from a pair of spectacles and a collection of glass beads from a necklace possibly dating to the 1930s. Recent activity is represented by two 303 calibre incendiary bullet cases probably dating from the Second World War.
The good survival of these features and deposits, combined with the numerous historical paintings and photographs, will help to inform current and future programmes of consolidation, repair and restoration proposed for the Folly and the South Tower in particular.
Actions (login required)