Lee, Anthony (2006) 47-49 China Street, Lancaster- Watching Brief. Project Report. OA North. (Unpublished)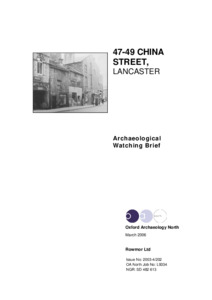 Preview
PDF




47-49ChinaStreetReport.pdf


Download (1MB) | Preview
Abstract
Oxford Archaeology North was commissioned by Rowmor Ltd to undertake an archaeological watching brief on the site of a proposed three-storey building (Planning Application ref 03/01163/FUL) at 47-49 China Street, Lancaster, Lancashire (centred SD 482 613). The watching brief was carried out during the excavation of investigative trial pits in order to inform Lancashire County Archaeological Service of the amount of disturbance to, or survival of, archaeological deposits across the site that will be available for archaeological excavation prior to development.
The site has lain vacant since the demolition in 1973 of two buildings deemed unsafe. These buildings dated from the seventeenth and early eighteenth century and were two of the few buildings not to have been demolished when China Lane was widened around 1908. An archaeological excavation had been carried out on the site in 1979 by Lancaster Archaeological Society who were able to take the rare opportunity to investigate an area which had not been cellared. Evidence from the excavation suggested the area had been used for cultivation until the late sixteenth or early seventeenth century; a sequence of building phases were identified from thence onwards.
The watching brief found no evidence of the post-medieval building sequence. A layer of cultivation soil identified in two trial pits may represent the medieval soil horizon; the disturbance of the deposits within the remainder of the trial pits suggests that the 1979 excavation had removed the archaeological evidence in these areas.
Actions (login required)