Tonks, David (2007) Mill Lane, Walney Island, Barrow-In-Furness, Cumbria- Documentary Research, Building Survey, and Watching Brief. [Client Report] (Unpublished)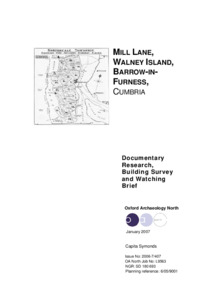 Preview
PDF




complete report.pdf


Download (5MB) | Preview
Abstract
Following submission by Capita Symonds of a planning application (reference 6/05/9001) to develop land on the northern side of Mill Lane, Walney Island, Cumbria (SD 180 693), Cumbria County Council Historic Environment Service (CCCHES) requested that a programme of archaeological works be conducted in association with the proposed development (Appendix 1). The development comprised a skateboard park, football and rugby pitches, a multi-use playing-field area and a new pathway around the 1800m2 site.
The programme of archaeological works was to comprise documentary research of the subject site to complement an existing desk-based assessment undertaken by Iron Bridge Archaeology, the recording of the existing buildings prior to their demolition, and an archaeological watching brief during groundworks associated with the development. Following submission of a project design to fulfil the brief issued by CCCHES, Oxford Archaeology North (OA North) were commissioned to undertake the work, commencing in July 2005.
The documentary research was undertaken in July and August 2005, and determined that the site had, throughout its history, predominantly been used for agriculture, either arable or pasture, and, during the medieval period, was almost certainly farmed by tenant farmers under the control of Furness Abbey. The land reverted to pasture in the post-medieval period and remained so until its temporary use as a military base during World War II. The military buildings fell into disuse after the war and became tenanted by 'squatters' who used them as houses for a short period during the late 1940s and early 1950s. Subsequently, the area as a whole generally fell into disrepair and became wasteland. The building recording survey, carried out in July and August 2005 supported this conclusion. The results of this survey indicated that the buildings recorded dated no earlier than the 1940s.
The archaeological watching brief was undertaken during groundworks comprising topsoil stripping and drainage trenching in July and August 2005. Few horizons of archaeological significance were observed during the works; however, in the area of the skate-park, several parallel linear features were exposed. These are undoubtedly associated with the period when the land had been used for agriculture, and were probably the vestigial remains of ridge and furrow farming. No diagnostic finds were recovered from these features, but it is likely that they were the remnants of an agricultural practice that has its roots in the medieval period.
ACKNOWLEDGEMENTS
Oxford Archaeology North (OA North) would like to thank Guy Weller of Capita Symonds for commissioning the project, and the staff of Ken Hope Limited for their assistance on site.
Daniel Elsworth carried out the documentary research and building recording, and David Tonks and Andy Bates undertook the watching brief. Daniel Elsworth and David Tonks wrote the report. The finds were examined by Jo Dawson and the drawings were produced by Christina Clarke and Marie Rowland. Stephen Rowland managed the project and edited the report.
Actions (login required)