Ridings, Christopher (2006) Threshing Barn, High Clough Farm, Near Colne, Lancashire- Building Investigation. Project Report. OA North. (Unpublished)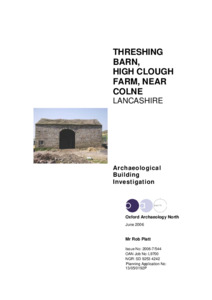 Preview
PDF




completereport.pdf


Download (6MB) | Preview
Abstract
Mr Robert Platt made a planning application (Planning Application 13/05/0192P) to Pendle Borough Council to develop a threshing barn at High Clough Farm, near Colne Lancashire (SD 9253 4242). As part of the planning procedure, the council consulted Lancashire County Archaeological Service LCAS), which recommended a building recording programme of English Heritage (2006) Level II standard. This was to include a rapid desk-based assessment, which would provide a historical background and detail any changes in the development of the farmstead. In addition, an extensive site investigation was to be undertaken, comprising written descriptions, as well an extensive photographic record, and site drawings of the floor plans and sections.
Following these recommendations, Mr Platt requested that Oxford Archaeology North (OA North) undertake the building investigation, which was duly completed in April 2006.
The background research revealed little textual evidence, but the cartographic sources provided a sequence of building from the mid-nineteenth century through to the early decades of the twentieth century. The research demonstrated that the barn and outshut were already in place by 1848 and the building remained unchanged till the early twentieth century, when a further outshut was added to the west elevation.
The barn would appear to date from the early to mid nineteenth century and has essentially retained its shape since the early to mid twentieth century. The barn was constructed in its present plan, with an outshut built at the same time or shortly afterwards on its west elevation. It was originally conceived as a threshing barn, with a shippon for livestock and a hayloft both at the south end of the building. This would appear to have been the function of the building, until the insertion of new stalls during the late nineteenth or early twentieth century. Shortly after, the roof of the barn was raised and remodelled and the winnowing door and door on the south-east corner of the building were converted to windows. From this date onwards, the barn possibly became a cow or milking shed only, hence the greater need for light and more roof space. Since the mid twentieth century, most of the changes have involved the outshut, with the barn receiving only modest cosmetic repairs.
Actions (login required)