Hughes, Vix (2007) Radcliffe Tower, Radcliffe, Greater Manchester- Evaluation. Project Report. OA North. (Unpublished)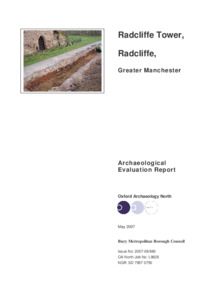 Preview
PDF




Radcliffe Tower Evaluation.pdf


Download (5MB) | Preview
Abstract
In March 2007, Oxford Archaeology North (OA North) carried out an archaeological evaluation of land immediately adjacent to Radcliffe Tower, Greater Manchester (centred on SD 7957 0750), on behalf of Bury Metropolitan Borough Council Children's Services. The remains of Radcliffe Tower are designated of national architectural or historical significance as a Grade I Listed Building and Scheduled Monument (SM 27585), and the archaeological evaluation was required to inform and support an application for Scheduled Monument Consent to remove a modern haulage road that crosses the designated area. The evaluation was intended to establish the presence, nature, depth, and extent of any archaeological remains buried beneath the haulage road, and was carried out under the terms of Class 7 Consent.
The evaluation comprised the excavation of three short trenches, which examined a combined total area of 40m2. The position of the trenches was targeted on features depicted in documentary sources, and with reference to an archaeological investigation of the site carried out in 1979-80 (Tyson 1985). Trenches 1 and 3 each measured 5m in length, and Trench 2 was 15m in length. In broad terms, the same stratigraphic sequence was encountered in Trenches 1 and 2, comprising the uppermost surface of significant archaeological deposits overlain by a series of modern surfacing and associated make-up layers, on average 0.9m in depth. The earliest archaeological features exposed probably dated to the medieval period, and included a fine cobbled surface that was revealed at a depth of 1m below the modern ground surface in Trench 1, and a possible foundation for a timber crook and a hearth associated with the great hall connected to Radcliffe Tower at depths of 1.1m and 0.99m respectively in Trench 2. Features relating to the use of the site as a farm complex during the post-medieval period were also identified. Trench 3, placed along the haulage road to the south of Radcliffe Tower, was devoid of archaeological features, reflecting its position beyond the focus of archaeological activity.
The evaluation demonstrated that significant and well-preserved buried remains survive beneath the haulage road, highlighting the considerable archaeological potential of the site. Surviving in situ remains interpreted as representing elements of the medieval timber-framed great hall are of particular interest. These remains, however, lie at some depth below the modern ground surface and are sealed by a series of levelling layers. It is therefore likely that the proposed removal of the haulage road would have a negligible archaeological impact.
Actions (login required)