Elsworth, Dan (2005) Kingsway Baths and Bridge Houses, Lancaster- Building Investigation. Project Report. OA North. (Unpublished)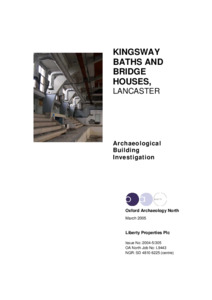 Preview
PDF




Complete Report.pdf


Download (16MB) | Preview
Abstract
Prior to the redevelopment of the site of the former Kingsway Baths and Bridge Houses, Parliament Street, Lancaster (SD 4810 6225) a programme of archaeological
recording was requested by the Lancashire County Archaeological Service. This was to comprise of a Level III-type survey of the standing buildings, accompanied by
background research into the site, which would enhance an earlier study undertaken in 1999.
The background research revealed that the Bridge Houses were built as part of the construction of the New Bridge (now Skerton Bridge) over the River Lune. They are
thought to have been built by the architect Thomas Harrison in c1787, although there is only circumstantial evidence for this, and were used as a tollhouse and inn from the
end of the eighteenth century to the middle of the nineteenth. After this point they were used primarily as private houses for wealthy local families until the beginning of the twentieth century. During the early twentieth century increased road traffic and the construction of a neighbouring railway made the area less popular and by the later part of the twentieth century the Bridge Houses were in a poor condition. Ironically it
was one of the Bridge Houses residents, Henry Warbrick, the mayor of Lancaster,who was largely responsible for the construction of the Kingsway Baths and associated bus depot in 1938.
Actions (login required)