Bates, Andrew (2010) Radcliffe Riverside School, West Campus, Radcliffe, Greater Manchester- Evaluation. [Client Report] (Unpublished)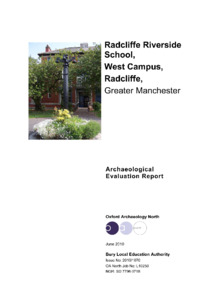 Preview
PDF




Radcliffe Riverside School Archaeological Report.pdf


Download (4MB) | Preview
Abstract
Bury Local Education Authority has proposed to redevelop the site of Radcliffe High School in Radcliffe (centred on SD 7796 0716). The development proposals allow for a new school to be erected immediately to the west of the existing school buildings, occupying land that is used presently as playing fields.
As an initial stage of the development process, Oxford Archaeology North (OA North) was commissioned in October 2005 to undertake an archaeological desk-based assessment of the proposed development site (OA North 2006). This study concluded that there was some potential for in-situ buried archaeological remains pertaining to the projected line of a Roman road between the forts of Manchester and Ribchester and, on the basis of evidence derived from historical mapping, post-medieval field system features and possible early mining activity.
Following on from the desk-based study, it was recommended that a programme of archaeological evaluation of the site was carried out to establish the presence of absence of buried remains of interest. OA North was invited by Bury Local Education Authority to submitted a Written Scheme of Investigation for the trial trenching of the site (Appendix 1) and, following its approval, were commissioned to undertake the work in May of 2010.
The scheme of archaeological evaluation allowed for the excavation of four trial trenches, and was carried out in May 2010. Archaeological features of local interest were identified in Trenches 1 and 4, and included boundary ditches and three post-holes. These features were almost certainly associated with the agricultural landscape depicted on eighteenth- and nineteenth-century mapping of the area. These features were sealed beneath a thick deposit of levelling material, which had seemingly been deposited during the early twentieth century, and was thickest in the northern and western parts of the site. There was no evidence for the line of the putative Roman road, or for any post-medieval mining activity.
Based on the results obtained from the evaluation trenching, it is concluded that the proposed development of the site will have a negligible archaeological impact, and further intrusive investigation is unlikely to be required.
Actions (login required)