McPhillips, Sean (2008) Knowsley Street Railway Station, Bury, Greater Manchester- Final Excavation Report. Project Report. OA North. (Unpublished)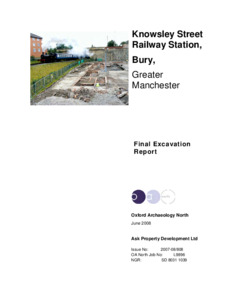 Preview
PDF




Knowsley_Street_Station_Complete_Report smaller2.pdf


Download (11MB) | Preview
Abstract
Ask Property Development Ltd has proposed a scheme of development (planning application 47200) on the site of a former railway station on Knowsley Street, Bury (centred on SD 8031 1039). The station was built by the Lancashire and Yorkshire Railway Company in 1848, and acted as the main intermediary stop on a line between Bolton and Heywood. The station originally comprised a passenger facility with a wooden station house, and a large goods yard. Throughout the 19th century, the station expanded gradually, including the erection of several large warehouses within the goods yard.
In July 2007, an archaeological evaluation of the passenger station was carried out by Pre-Construct Archaeology, and comprised the excavation of five targeted trenches. This programme of work was intended to establish the presence or absence of any buried remains, assess their significance, and inform an appropriate scheme of further investigation to mitigate the ultimate loss of the remains during the redevelopment of the site. The evaluation revealed that extensive buried remains survived in-situ at a shallow depth across the area for redevelopment. Consequently, the Greater Manchester Archaeological Unit, in its capacity as archaeological advisors to Bury Metropolitan Council Planning Department, recommended that a programme of further excavation was implemented to provide a detailed record of the buried remains. In accordance with this recommendation, Cre8 Management, acting on behalf of Ask Property Development Ltd, commissioned Oxford Archaeology North (OA North) to undertake the excavation. This was carried in August 2007, and culminated in a public viewing day during early September.
The area subject to archaeological excavation had until recently been used as a car park since the closure of the railway line and demolition of the station in 1971. The position of the car park corresponded with the area formerly occupied by the passenger station, including the 'Up' platform and associated buildings, and sidings and assorted outbuildings to the rear of the platform buildings. The excavation revealed well-preserved remains pertaining to the development of the station and, in accordance with the archaeological condition attached to planning consent for redevelopment, provided a detailed record of the buried remains in advance of their ultimate destruction.
On completion of the archaeological fieldwork, an assessment of the dataset generated from the excavation was carried out, which assessed the potential for further analysis with regard to the project's research aims. The process corresponded to the objectives laid out in the guidance document Management of Archaeological Projects 2nd edition (MAP 2; English Heritage 1991), and concluded that the dataset had little potential for further detailed analysis, although the results merited a short publication in an appropriate journal. Accordingly, a paper that summarises the key findings from the project has been prepared for publication in the Industrial Archaeology Review. In addition, an information panel that celebrates the town's railway heritage, and provides an historical account of the Knowsley Street Station, has been produced for permanent installation on the site.
Actions (login required)