Clapperton, Kelly and Clarke, Steve (2008) Blenkett Farm, Allithwaite, Cumbria- Rapid Desk-based Assessment and Watching Brief. [Client Report] (Unpublished)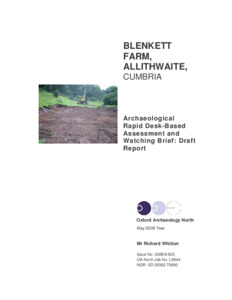 Preview
PDF




Blenkett farm full rep.pdf


Download (3MB) | Preview
Abstract
Mason Gillibrand Architects, on behalf of Richard Whitton, have submitted proposals for the construction of a caravan park at Blenkett Farm, Allithwaite, Cumbria (SD 39362 75880). The development site is located within an area of archaeological potential and, accordingly, Cumbria County Council Historic Environment Service (CCCHES) issued a verbal brief requesting that an archaeological rapid desk-based assessment and a watching brief be respectively undertaken prior to, and during the development groundworks. Following submission of a project design to meet CCCHES requirements, Oxford Archaeology North (OA North) were commissioned by Mr Whitton to undertake the programme of archaeological works.
The rapid desk-based assessment, undertaken in April 2007, identified 13 sites of cultural heritage interest within a study area extending 500m from the centre of the development site. These included a number of prehistoric sites, the most significant of which, and located barely 100m to the east, was the Scheduled Monument of Kirkhead Cave (SM13444), from which evidence of human activity has been recovered dating from the Palaeolithic to the Roman periods. The watching brief, conducted over a period of three days in August 2007, monitored the topsoil stripping of an access track, some 300m in length, and 13 caravan bays. The only archaeological feature exposed during the works comprised the remains of a drystone enclosure-period field boundary, shown on the 1851 Ordnance Survey map and removed some time after 1990.
The basal deposits revealed by the groundworks comprised layers of colluvium, likely to represent hillwash from Kirkhead, to the immediate east, and occasional outcrops of limestone bedrock. The colluvium is of particular significance as it may contain significant archaeological remains, including both artefacts and human bones, that have eroded from Kirkhead. Similarly, although the underlying limestone pavement was not revealed other than in intermittent patches, there is a possibility that in situ archaeological features and artefacts may remain within natural fissures below the level of the present development. Furthermore, two peat deposits were identified, one of which appeared to have been partially dug-out and maintained as part of the wider scheme of drainage in the area that commenced in the eighteenth century. As such, although the present programme of development has had little impact on the archaeological resource, a number of potentially significant deposits remain on the site, and these would be sensitive to any deeper excavations, and any further development of the site.
Actions (login required)