Hughes, Vix and Eloy, Pascal (2008) Ferry Terminal, Pierhead, Liverpool- Evaluation. Project Report. OA North. (Unpublished)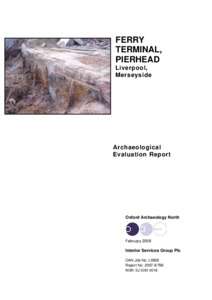 Preview
PDF




9908 Ferry Terminal compled rep reduced.pdf


Download (2MB) | Preview
Abstract
A programme of archaeological works was required by the Merseyside Archaeologist in advance of the construction of the proposed new Pierhead Terminal Building, Liverpool (centred at NGR SJ 3381 9018), within the city centre of Liverpool (centred at NGR SJ 3403 9008). The work was commissioned and facilitated by Interior Services Group PLC, and was undertaken in September 2007 over a two week period by staff from OA North.
The main aims of the work were to establish the presence or absence of archaeological remains within the identified area and to determine the extent, condition, nature, character, quality and date of any archaeological remains present. It was envisaged that one long evaluation trench would satisfy these aims; however, the constraints of the ground conditions meant that in the event that the entire footprint of the new build was opened up.
The evaluation demonstrated that the development area contained the surviving remains of George's Ferry Basin, built around 1770, and George's Baths, built in 1828. The Ferry Basin was identified as a substantial sandstone wall, aligned approximately east / west at the northern end of the area, which appeared to correlate with the southern wall of the Ferry Basin. At the southern end of the excavated area a substantial brick wall was exposed, aligned east / west, and is most probably the northern side of the former George's Baths as depicted on early Ordnance Survey mapping.
Three other features were also identified in the works, including a large curved sandstone and iron structure which was the foundation for the bridging to a ferry landing stage that extended to the west. A section of a brick culvert was also uncovered, as was a second substantial brick wall, parallel to, and north of, the probable George's Baths foundation. This second wall may also be related to the Baths or may be part of a later large subterranean tank-like structure, that was known to have been built in this locale.
Following on from the evaluation, the developer adjusted the proposed pile foundation plan so that the piles would, as far as possible, avoid the key archaeological features. On this basis the Merseyside Archaeologist agreed that the foundations should be able to proceed without further recording in this area.
The southernmost part of the site, previously occupied by the Shanghai Palace restaurant and which probably has buried further remains of George's Baths, has yet to be investigated. The restaurant has now been demolished and the area is scheduled for landscaping which will potentially have an impact on the underlying archaeological remains. Based on the archaeological remains revealed in the northern part of the site it is recommended that a programme of further archaeological evaluation be carried out on the southern unexcavated area.
Actions (login required)