Clarke, Rachel (2014) Investigation of the effect of rabbit burrowing at the site of Swavesey Priory, Swavesey, Cambridgeshire. [Client Report] (Submitted)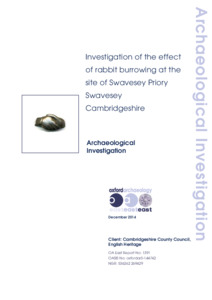 Preview
PDF




SWASWP12_Report 1391v2_LR.pdf


Available under License Creative Commons Attribution Share Alike.
Download (4MB) | Preview
Abstract
In July 2012 OAE undertook a small open area excavation, on behalf of and funded by Cambridgeshire County Council and English Heritage, on the earthwork remains of Swavesey Priory (SM 38; TL36262 69429). The scheme was designed to determine the extent of disturbance caused by rabbit burrows to a building platform within the scheduled monument, record the archaeology in the affected area and reinstate it for use as grazing pasture for horses.
Little is known about Swavesey Priory, which was a small monastic house founded soon after the Conquest by Count Alan of Brittany and given to the Benedictine Abbey of Saints Sergius and Bacchus at Angers in France. In the 14th century its ownership passed to the Carthusian Priory at Coventry, after which it seems to have largely been reduced to the status of a rectory and manor until the Dissolution.
Machine excavation followed by limited hand excavation revealed an area of possible medieval floor/hearth and probable pits (not excavated), truncated by ditches and pits of late medieval date. Probable post-Dissolution evidence was represented by ditches and dumped deposits; later features include a brick drain of 18th century date. Rabbit burrowing was evident across much of the excavated area, although was most notable where the sandy natural was exposed and/or on the edges of features. Some 'historic' burrows had filled up naturally while voids and tunnels elsewhere were investigated and then infilled prior to backfilling.
Numerous finds including roof tile, pottery and animal bone were recovered during the excavation, in addition to many metal and stone 'small finds', several of which may have originated from the priory kitchen. The latter includes pieces from three stone mortars (mixing bowls), parts of a large copper-alloy bowl that had been patched and repaired, fragments of quernstone and a broken honestone. An iron key, probably from a cupboard rather than a door, in addition to part of a silver 'fede' ring with a clasped hand motif are other finds of note. The pottery assemblage provides evidence for shifting trade patterns from the medieval to late medieval periods and a possible change from more domestic/culinary activities to processes associated with dairying.
Despite the limited nature of the archaeological investigation, the work has demonstrated that, while the rabbit disturbance was extensive, the area was not as eroded or unstable as had been feared. As well as enabling the field to be returned to grazing that will aid the long term preservation of the site, this project has shown that well-stratified deposits and associated finds assemblages survive within this part of the scheduled area.
An open day held during the course of the excavation attracted a lot of interest from local people, with around 150 people attending tours. The site presents a good candidate for future non-intrusive and/or community work, particularly detailed earthwork survey, which may help to define which areas of the monument have been affected by quarrying and other later intrusive activities.
Actions (login required)