Wild, Chris (2014) Jubilee Colliery, Shaw, Oldham - Community-led Archaeological Investigation. Project Report. OA North. (Unpublished)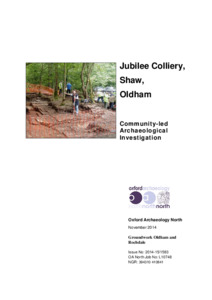 Preview
PDF




L10748_Jubilee Colliery_FullRep_red.pdf


Download (11MB) | Preview
Abstract
In June 2014, Oxford Archaeology North (OA North) was commissioned by
Groundwork Oldham and Rochdale, to carry out a programme of archaeological
investigation of the former Jubilee Colliery near Shaw, Oldham (centred on NGR
394310 410841). The archaeological works involved the delivery of a community-led
excavation on the site as part of the 'Jubilee Colliery: Preserving the Past' project, a
six-month scheme that has been funded by the Heritage Lottery Fund. The principal
aim of the archaeological work was to enable local volunteers to further examine the
remains of the colliery that had been subject to an earlier investigation in 2012.
Jubilee Colliery was one of the most important collieries in the Oldham Coalfield,
supplying coal and coke to many of the cotton mills and factories in the area. The
colliery was founded in 1845, when a shaft was sunk into the Mountain Mine, which
lies 99m below the surface. Owned originally by the Edge Lane & Dryclough Colliery
Company, Jubilee Colliery was bought in 1883 by Platt Brothers & Co Limited of
Oldham, one of the largest manufacturers of textile machinery in the world. The Platt
Brothers were keen to secure a cheap source of coke for their iron works in Oldham,
where some 500 tons per week were being used, and the coal gained from the
Mountain Mine at Jubilee was ideal for producing coke.
Many of the buildings were demolished when the colliery closed in 1932, and the
abandoned site was allowed to be reclaimed by nature. It is currently managed as a
local nature reserve by Groundwork Oldham and Rochdale, and is colonised by a
diverse range of flora that thrives amongst the remains of the colliery structures.
These remains include part of a double bank of coke ovens, the foundations of the
winding engine for the downcast shaft, the dynamo house, and a raised mound that
marks the site of the boiler house and chimney.
Actions (login required)