Stitt, Lewis (2014) Salford Flood Improvments, Castle Irwell, Salford - Watching Brief. Project Report. OA North. (Unpublished)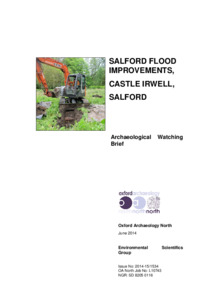 Preview
PDF




Salford Flood Improvements, Castle Irwell_Archaeological Report.pdf


Download (5MB) | Preview
Abstract
In April 2014, Environmental Scientifics Group commissioned Oxford Archaeology North (OA North) to undertake an archaeological watching brief during the course of
a geotechnical investigation. This investigation focused on an area contained within a meander of the River Irwell, adjacent to Castle Irwell Student Village, Cromwell
Road, Salford (centred on SD 8205 0116), and formed part of a scheme of flood defence improvement. The investigation entailed the excavation of 17 test pits, ten boreholes, and eight window samples.
Historically, this area is known to have contained an early nineteenth-century mansion, named Castle Irwell, an early nineteenth-century golf course, and was also the site of two racecourses; the first operating in the mid-nineteenth century and the second dating to the early and mid-twentieth century. During the watching brief several areas of nineteenth- and early twentieth-century activity were identified. The nineteenth-century remains that were revealed hold low archaeological significance and comprise levelling layers, containing nineteenth-century artefacts, which were present in four of the interventions (TP-105 and TP-117; WS-102 and WS-107).
These layers were probably deposited during the establishment of the Castle Irwell grounds, or during the establishment of the mid-nineteenth century racecourse, or
even the twentieth-century racecourse. It should be noted, however, that the footprint of the former Castle Irwell mansion was not investigated directly, and whilst the
evidence obtained from the geophysical survey and the excavation of the adjacent trial holes suggests that the site was subject to comprehensive levelling during the
construction of the Manchester Racecourse, the potential for buried foundations of the mansion house to survive in-situ cannot be discounted entirely.
Actions (login required)