Phelps, Andy (2014) Ivy House Mills, Commercial Road, Hanley, Stoke-on-Trent - Watching Brief Final Report. [Client Report] (Unpublished)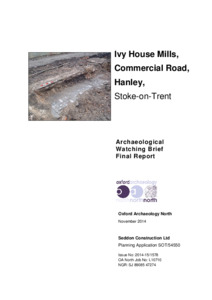 Preview
PDF




Ivy House Mills, Hanley_Archaeological Watching Brief Final Report.pdf


Download (3MB) | Preview
Abstract
Seddon Construction Ltd has obtained planning consent for the redevelopment of a c
1.37ha site off Commercial Road in Hanley, Stoke-on-Trent (centred on NGR SJ
89085 47274). The development proposals allow for the erection of 62 dwellings, an
electrical sub-station and associated infrastructure, which will inevitably necessitate
earth-moving works (Planning Application SOT/54550).
The south-eastern part of the site was occupied in the nineteenth century by the Ivy
House Paper Mills, and the western part by Dresden Mills, which ground flint and
bone and produced colours for the pottery industry. By the 1930s, Dresden Mills had
fallen into disuse, and its site was subsumed by an expansion of Ivy House Mill. This
industrial complex was eventually demolished in 2006-07, and geo-technical
investigations carried out subsequently indicated that there was a low potential for
buried archaeological remains to survive across the southern part of the site. However,
the archaeological potential of the north-eastern part of the site, which was occupied
by a row of workers' housing from at least 1866 to 1937, remained unknown.
Actions (login required)