Jepson, Nathaniel and Schofield, Peter (2009) Maryport Promenade, Maryport, Cumbria - Topographical Survey and Watching Brief. Project Report. OA North. (Unpublished)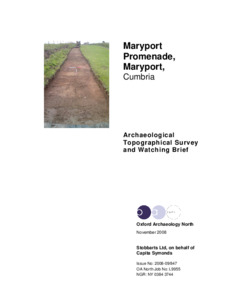 Preview
PDF




L9955_Maryportprom_FullRep.pdf


Download (2MB) | Preview
Abstract
An archaeological evaluation was undertaken by Oxford Archaeology North (OA
North) in December 2007 along the route of proposed upgrading and improvement to
a section of coastal footpath to the north of Maryport, Cumbria (NGR centred NY
0384 3744). Ten trenches were excavated to assess the impact of the proposals upon
any below ground archaeological remains; the existing path requiring upgrading was
situated to the immediate north-west of the Scheduled Roman fort and vicus (SM
27746). Although the path lies outwith the Scheduled Monument of the fort, the
evaluation had located associated remains of archaeological significance within two of
the trenches probably dating to the late second and third centuries AD. Trench 5
contained part of a series of seaward defence banks observed running west from the
fort to the cliff edge. Trench 8 contained a small ditch running north/south across the
trench that probably formed part of the western boundary of the vicus. Furthermore, in
the area between Trenches 3 and 5 are a number of earthworks of archaeological
significance that will impacted by the groundworks or associated on-site works.
Consequently, a condition was imposed on the planning consent, by the local planning
authority on the advice of the Hadrian's Wall Archaeologist for English Heritage, to
undertake a programme of work in mitigation of the groundworks. This consisted of
two elements; the upgrading and widening of the promenade path, undertaken by
Stobbarts Ltd on behalf of their client Capita Symonds, was required to be carried out
under permanent archaeological presence, namely within the area of most
archaeological sensitivity and vulnerability to disturbance, in the vicinity of Trenches
5 and 8; the second requirement was that intrusive groundworks were to be excluded
within the immediate vicinity of the earthworks of archaeological significance,
between Trenches 3 and 5. Alternatively, the path would be required to be built up to
leave the earthworks in situ. As part of the archaeological condition, the area for
exclusion around the earthworks, to include a 1m cordon, was marked out and the
earthworks recorded by means of a topographical survey. The topographical survey
was undertaken in February 2008, and the watching brief was undertaken in June and
July 2008.
Actions (login required)