Wild, Chris (2007) Ty Nant A5 Glyn Bends Improvements, North Wales- Archaeological Survey. Project Report. OA North. (Unpublished)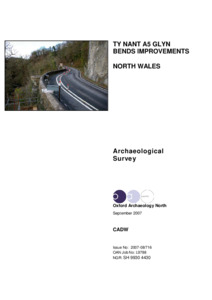 Preview
PDF




Complete_report.pdf


Download (4MB) | Preview
Abstract
Rick Turner, of Cadw, commissioned Oxford Archaeology North (OA North) to undertake an archaeological survey of the Ty Nant Embankment of Thomas Telford's Holyhead Road, North Wales. The Ty Nant section of Thomas Telford's road had formerly been detrunked, as a result of the construction of the Glyn Bends Bypass. However, because of the risk of collapse of the bypass cutting, this required considerable stabilisation works; as a consequence traffic was diverted back along the Ty Nant embanked section of Thomas Telford's road (centred on SH 9930 4430). Extensive scaffolding was erected along the face of the embankment to monitor any deterioration in the wall, and this enabled the implementation of a detailed survey of the wall, and has provided a mitigative record in the event of any damage to the structure.
The survey was undertaken in January 2007 and entailed a descriptive and photographic record of the embanked section of the road through the Glyn Dyffwys bends, producing a plan of the road structure, and a series of six profiles across it.
The construction of the road through the Glyn Dyffwys bends was a major challenge during the construction of the Holyhead Road, itself one of the greatest civil engineering projects to have been undertaken before the railway-building era. The road was constructed between 1815 and 1826 and was financed by Government as a result of an Act of Parliament. Telford constructed the road so as to enable the fast passage of a carriage between London and Dublin, by way of North Wales. The Welsh section was the most difficult of the whole route, and the Ty Nant section in particular requiring the construction of an enormous embankment through the Afon Ceirw gorge.
The survey revealed that the embanked section of the road survives in a fair condition, and contains several elements other than the retaining walls themselves, including two viewpoint turrets, quarries and depots, associated with the construction of the road. The majority of the parapet walling has been rebuilt, reflecting, for the most part, damage as a result of accidents and it is this element of the structure that has most evidence of damage.
Whilst detailed specification were drawn out for each section, or Lot, within the length of the road, Ty Nant appears to have been an exceptional circumstance, and the construction differs in several subtle ways. Not only was the angle of batter of the retaining walls significantly reduced (from 16° to 10°), but the walls along the inner edge of the road were also substantially lower than that specified. These modifications appear to have been so as to maintain the greatest carriageway width possible through the narrow gorge; however, even with the alterations to the specification, the road was typically 4' (1.22m) narrower than originally intended and seen elsewhere on the route.
Actions (login required)