Miller, Ian (2007) Joint Service Centre, Millgate, Wigan- Desk-based Assessment. Project Report. OA North. (Unpublished)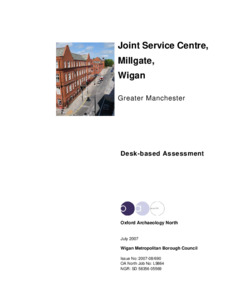 Preview
PDF




Complete_report_reduced.pdf


Download (8MB) | Preview
Abstract
In May 2007, Oxford Archaeology North (OA North) was commissioned by Wigan Metropolitan Borough Council (WMBC) to undertake an archaeological desk-based assessment of land bounded by Millgate, Rodney Street, Library Street and the Wiend, in the centre of Wigan, Greater Manchester (centred on NGR SD 58356 05569). The principle aim of the assessment was to identify, as far as possible, the nature and significance of the sub-surface archaeological resource within the study area, and to inform and support a planning application by WMBC for the redevelopment of the site. The development proposals are for a Joint Service Centre, which will provide a range of council services on a single integrated site, the construction of which will require some substantial earth-moving works.
The proposed site for the Joint Service Centre lies on the eastern fringe of the town's medieval core, and incorporates an area of known important archaeological remains. In particular, archaeological excavations during the 1980s immediately to the north of the present Municipal Buildings on Hewlett Street provided significant evidence for Roman activity. More recently, the remarkable remains of a Roman bath house were discovered during archaeological excavations carried out in advance of the Grand Arcade Shopping Development on Millgate. These results obtained from these excavations indicate that the focus of Roman settlement in Wigan lies within the present study area. In addition, important archaeological evidence for medieval and post-medieval activity has been recovered from the present study area and its immediate vicinity.
Buried archaeological remains across most of the study area, however, will undoubtedly have been destroyed during redevelopment work in the late 19th and early 20th centuries. In particular, the construction of the Wigan and District Mining and Technical College (the present Town Hall) in 1903, and its extension in 1929, will have destroyed any archaeological remains between Hewlett Street and College Avenue. The construction of the public baths and its modern successor will similarly have had a major impact on any buried remains between College Avenue and Rodney Street, although fragmentary evidence for archaeological activity may survive beneath the extant building and a small grassed area immediately to the north. However, the northern part of the study area, which is currently used for car parking, has considerable potential to contain important archaeological remains pertaining to the Roman, medieval, and post-medieval periods. This will require a programme of intrusive investigation, most probably in the form of trial trenching in the first instance, which will be designed to establish the presence or absence, extent, and character of buried archaeological remains.
Actions (login required)